Emma was born in Gothenburg, Sweden and caught the travel bug at early age. When she moved to Montreal for six months in 2010 she fell in love with the Canadian lifestyle and the diversity of its nature and wildlife. She then continued exploring Canada's west coast and places such as Vancouver and Whistler. She also travelled extensively throughout the Québec
region.
She then relocated to Dublin in Ireland and worked in IT, until she moved to Cuba for a couple of months, learning Spanish as well as exploring the Latin Caribbean culture. After returning to Europe she was determined to work in an industry where she could share her passion for travel and her experiences and knowledge with others. Since joining Audley as a Canada specialist she has been back to discover more about the country, including some of its eastern cities. Highlights included visiting Banff and a scenic seaplane flight between Victoria and Vancouver.
Emma loves animals and horseback riding is one of her favourite things to do. She also enjoys playing soccer and is an avid Cuban salsa dancer.
Speak to Emma

Start planning your trip to Canada with Emma by calling
01993 838 718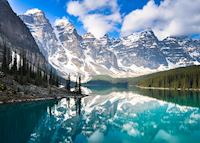 Banff is a one of a kind, a picture postcard city which definitely lives up to expectations.
Surrounded by the magnificent Rockies, there are few towns that can amaze you like this one can. I love how the mountains and wildlife are so close to you while at the same time having everything you need in the village itself — in particular, the different culinary restaurants and coffee shops; I did enjoy my coffee and pastry after a full-on day of activities.
Banff's inhabitants' have created a cosy atmosphere that makes the town friendly for any visitors; I often found myself chatting with locals about the latest weather report or wildlife sighting.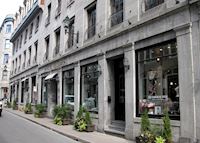 The historic Old Port of Montreal embraces the older French Canadian heritage style of cobblestoned streets and architecture; at some point you might even think you're in France rather than Canada. With easy access to the Saint Lawrence River and the urban beach, Plage de l'Horloge, it's a perfect spot to experience Montreal like a local.
Nelligan has captured this essence of old and new with some parts of the hotel being heritage protected. It offers an exceptional standard of accommodation without being pretentious. The friendly and knowledgeable staff will go out their way to make your stay memorable. If you decide to try out their French inspired restaurant you won't be disappointed.
After having had your taste buds satisfied you can relax in the welcoming bar or in the cosy lobby area with a cocktail or another glass of wine while the French Canadian city buzz goes on outside.
I'll never forget when…
My most memorable experience would have to be one extraordinary day of wildlife sights while camping in Tadoussac by the Saint Lawrence River. This area of Québec has endless scenic hiking trails and is home to thriving whales, turtles and eagles. After having spotted a black bear and beavers in their dam on the lake early one morning, we headed out in the afternoon in a Zodiac to look for whales. The fjord next to the village of Tadoussac is visited by up to 13 different whale species yearly and so the chances of spotting a few of them are high — and this afternoon was no different. While blue and minke whales passed on by quickly on their way up-river to feed on krill and fish, the belugas tended to be more curious by nature and several swam up close to our boat.