I came to Audley having worked in the tourism industry for three years. My keen interest in travel paired with my love of adventure led me to join our Canada team and subsequently, to see and experience the hugely diverse provinces within the country. On my research trip to Canada I traversed the whole country from the beaches of the west coast to the cities in the east, finding the time to visit plenty of scenic and historic spots in between. One of the most rewarding aspects of the trip was the incredible scenery along roads such as the Sea to Sky Highway in British Columbia and the Icefields Parkway in the Rockies. Everywhere I looked I was in awe of the surroundings; Canada is an astounding place to drive. Aside from travel, my passions include food, and I regularly bake for friends, family and, of course, colleagues.
Speak to Molly

Start planning your trip to Canada with Molly by calling
01993 838 897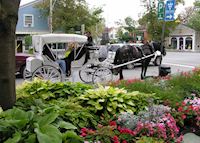 I loved spending time in Niagara-on-the-Lake, a small town in the wine country that borders Lake Ontario. It is one of the best preserved 19th-century towns in North America and its quaint, tree-lined streets are flanked with restored period houses. The town was the first capital of Upper Canada and played an important role in the War of 1812, making it a rewarding destination for history lovers but it also has the added bonus of being at the heart of Ontario's wine region. I would particularly recommend a visit to the historic Fort George and a wine tasting or dinner at Two Sisters Vineyards.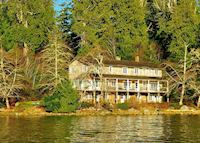 Nestled in the woods, just off the Tofino to Ucluelet Highway in British Columbia, Red Crow is a delightful waterfront property. Guests have free use of canoes, so can explore the small nearby islands or take a picnic and enjoy some 'private dining' on an island all to themselves. The B&B's host, Stefan, is hugely knowledgeable about the local area and the shared deck is a great place for wildlife watching. Guests are offered breakfast in bed every morning and each room has far-reaching views out to the sea. The property also has a hot tub tucked away in the woodland with unbeatable ocean views.
I'll never forget when…
Watching grizzly bears at Bute Inlet, British Columbia with members of a First Nations tribe that are still the sole occupiers of the land there, was a humbling experience. We took a scenic two-hour boat trip to get there then drove to various viewpoints. At our first stop we watched two young grizzly bears swimming, fishing and play fighting together for over an hour. It felt really special to see them in their natural environment, completely undisturbed by us. We saw five more bears later in the day, one of which was no more than 10m (30ft) away. It was the highlight of my recent trip.