Rebecca has always had an insatiable passion for travel. Since asking for a globe for her sixth birthday her desire to see the world has only continued to grow stronger.
Having graduated from the University of Plymouth with a degree in Events and Tourism, she ventured on several solo trips across Australia, New Zealand and North America. Her first trip to Canada was spent sailing through Johnstone Strait, hiking through the temperate rainforest and kayaking with orca. She quickly fell in love with the relaxed lifestyle, wildlife and beautiful scenery — ensuring that she would return time-and-time again. Since joining Audley she's had the chance to explore more of this vast country, journeying from east to west.
She recently returned from a month-long trip, some of her highlights included staying in the Great Bear Rainforest, eating Poutine (French fries and cheese curds) in Québec and driving through the Rocky Mountains.
Speak to Rebecca

Start planning your tailor-made trip with Rebecca by calling
01993 838 792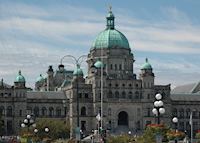 Victoria is one of those places not to miss when visiting the west coast of Canada. Situated in the south of Vancouver Island, this garden city has it all. It's compact and easily navigated on foot, car or my personal favourite - float plane. This makes it the perfect place to start or end your exploration around the island. The abundance of history, great food and wildlife will ensure you fall in love with this place as much as I did - especially the resident orca pods.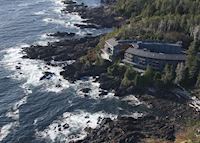 Sitting on the rugged edge of the west coast, this fantastic hotel has the best of both the ocean views and the temperate rainforest that surrounds Ucluelet.
The modern, spacious suites are the perfect place to unwind after a day exploring. Enjoy a glass of wine on the balcony at sunset, where all you can hear are the crashing waves - a wonderful experience.
I'll never forget when…
If there is one thing that I would recommend doing in Canada it would be to take a float plane flight. It may be a way that some lucky people get to commute, but flying back to Vancouver over the Strait of Georgia at sunset, is spectacular. It can be quite loud (use the earplugs they give you) but the views of the Gulf Islands, and seeing whales from above, was wonderful.