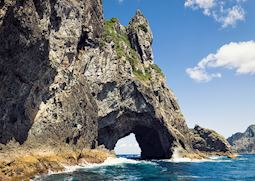 The Bay of Islands (also known as Paihia) struck me as one of the most beautiful natural wonders New Zealand has to offer. Islands of golden sand beaches with lush tropical forests, sit among the glistening turquoise waters. Daily boat trips and water activities allow you to take to the ocean and explore the Bay's abundance of marine life.
It was awe-inspiring to get a bird's eye view of this incredible landscape on a scenic flight over its 144 islands.
The Waitangi Treaty Grounds in Paihia are one of New Zealand's most important historic sites as this is where the treaty was signed between British and Maori leaders in 1840. The rich history of the area coupled with the outstanding natural beauty make this area a 'must do' on your New Zealand itinerary.