Born in the UK, Daisy spent the early part of her life in Cyprus, where she developed a love for exploration. Having family scattered across the globe afforded her special experiences such as New Year's Eve in Sydney, and exploring Maori culture in rural New Zealand.
After her studies and surviving a lively winter season running a chalet in Val-d'Isère, she embarked on a professional services career, snatching time away to travel to the Indian Ocean, Australasia and the Caribbean, not to mention exploration of the Mediterranean, where a firm love affair of food and wine continues to thrive.
She joined Audley in order to twin her love of travel with an exciting new career. Since this time she has visited Mauritius, Borneo, Indonesia and Singapore.
During her spare time Daisy enjoys cooking for friends and family, skiing (too fast) and spending time in the countryside.
Speak to Daisy

Start planning your tailor-made trip with Daisy by calling
01993 838 431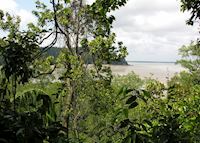 After a thrilling speedboat ride over the water out to sea, you swing around to a sandy peninsula with a jaw-dropping backdrop of mountains and trees. Tipping the edge of the Sarawakian region of Borneo, you are plunged into rainforest.
Wildlife is abundant here and I loved watching the native proboscis monkeys playing in the trees — we even managed to spot a few babies. If you're lucky you might also spot silver leaf langur monkey's grooming each other, or flying lemurs sleeping in the trees.
Bako National Park and Kuching are the ideal first stops for a couple of days before taking an hour-long flight up to Sabah for some beachside relaxation.
I'll never forget when…
One thing I will always understand is that nature is both unpredictable and never guaranteed. This was the case at the Semenggoh Nature Reserve, just outside of Kuching. It offers an extensive rehabilitation programme to orphaned and injured orangutan, where the affinity between ranger and animal was remarkable.

After an agonising 45 minute wait near to one of the many feeding stages, still no orangutan had appeared. Then, all of a sudden, a rustling noise. Swinging through the trees came one of the 26 resident orangs. Jumping from a tree to a rope right above my head, she worked her way toward the feeding stage; not long after she was joined by her mate and we were offered a stunning display of a breeding pair grooming each other and eating. Patience is always a virtue on these occasions and so it was for me in this case.