Josephine got her first true taste of travel and adventure when she embarked on her first trip to Thailand, Vietnam and Cambodia. Here, she was able to get a feel for what the world could offer outside of anything she had experienced before. On her return she made it a goal to go back to Asia, only this time to see more, do more and experience more.
Six months of travelling across Southeast Asia really set in stone her passion for travel. Looking back on some of the incredible experiences, such as camping on the beaches of Goa, snorkeling after dark in Koh Phi Phi Don, and watching dolphins chase boats between islands in Thailand, inspired her to share her passion for seeing the world with others.
After realising that her background in sales and her love of travel could be combined, she naturally gravitated to a career at Audley. Since joining, Josephine has been lucky enough to visit Thailand, Malaysia and Mauritius.
Speak to Josephine

Start planning your tailor-made trip with Josephine by calling
01993 838 423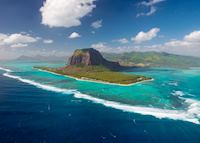 Mauritius is truly a wonderful place where soft white sand beaches are lined with tall palm trees and the crystal clear turquoise water is home to natural black rock. Traditional saga dances fill the night sky with atmosphere and the food is rich in taste.
After spending a few days relaxing on the shores and getting to experience the joy of Mauritian hospitality, you can venture out into the waters to take advantage of the water sports that are so popular including windsurfing, snorkeling and kayaking.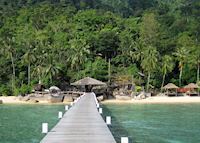 Arriving at JapaMala by speedboat I was instantly reminded that I am out of the city and into the wild.
Set on the outskirts of the jungle of Tioman Island, the canopy rooms are situated in the tree tops giving you an outstanding view of the South China Sea. Only a short walk down the steps, I was greeted with soft white sand and clear waters where you may even spot small reef sharks peacefully swimming.
Every night the hotel invites their guests for a cocktail hour on the jetty where you can catch the sun setting as you say goodbye to another day of island life.
I'll never forget when…
On Tioman Island I took the opportunity to spend the morning snorkeling off-shore, around the reefs. It was particularly memorable because after swimming around beautiful shoals of coloured fish, I swan close to two adult black tip reef sharks.