After spending many holidays in Donegal, Kerry wanted to explore more and left the beautiful countryside of Northern Ireland when she was 18. Her first big adventure was to move to the bright lights of London. From here, the urge to move around kept getting stronger.
Kerry has been lucky enough to have worked and lived in America and Thailand, before returning to England to complete her university degree. From here Kerry spent several years working within the health and social care sector before the travel bug hit again. On her most recent travels Kerry and her husband spent nearly two years sailing, travelling and working in the Caribbean.
Since joining Audley, Kerry has been to Los Angeles, Mauritius, Seychelles and French Polynesia where she got the chance to swim with a manta ray.
Speak to Kerry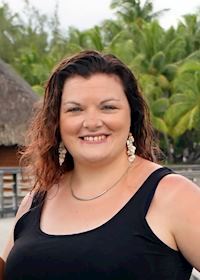 Start planning your tailor-made trip with Kerry by calling
01993 838 266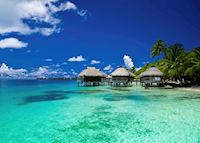 Flying towards Bora Bora on a tiny 20 seater plane was exciting enough, never mind the unbelievable views I was about to encounter. It's hard to explain the beauty of the colours that shone up to the sky from the lagoon and surrounding motu (atoll).
Picture the bluest seas in contrast to the whitest sands along with lush green vegetation. Now multiply that beauty by 100 and you'll be getting close.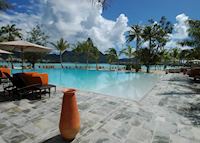 Being the first hotel to have only over water bungalows Thalasso feels very luxurious. The rooms are very spacious and you have an unforgettable view of Mount Otemanu as you lie on the beach or enjoy a cocktail at the bar.
Thalasso is situated on a motu (atoll) but with the ocean just a 10 minute walk away you can escape to sit here and listen to the waves; it's very hypnotic as the lagoon is so calm. It also has a stunning spa which is hard to rival as they offer a great range of treatments.
In summary, it's very easy to relax at this resort and enjoy the fantastic level of service it offers.
Kerry's Most Memorable Experience
Being a natural water baby, my favourite experience was when I was out on a shark and ray tour. On this particular trip the excitement took over me and I was in the water swimming with the sharks before others even had their mask on. There were only a few of us on the boat which makes a huge difference with your day. The water was crystal clear and the photos you can get are amazing. To make this day even more special the guide spotted a manta ray and let us swim around completely mesmerised by this beautiful creature for what felt like days.