Before joining the Audley team Natalie had worked within the travel industry for a rival company for 12 years. During this time she found her passion for travelling spending time mainly in Europe and the Caribbean. She loves to experience different cultures, spot wildlife and expand her worldwide knowledge and of course relaxing with a cocktail and a good book on many a beautiful beach features frequently in her trips.
Since joining Audley, Natalie has had the opportunity to visit the Seychelles, Thailand, Vietnam, Cambodia, Saint Lucia and Grenada. She has also spent time in the Maldives on her honeymoon. In particular, she was overwhelmed by the beauty of Vietnam as a beach destination.
Away from the office Natalie enjoys spending time with family and friends at the theatre, music concerts and sampling local restaurants. Natalie also finds the best way to relax is visiting the gym, cooking at home or with her nose in a good book.
Speak to someone who's been there
Start planning your tailor-made trip by calling one of our destination specialists on 01993 838 000
Thank you so much for planning our perfect honeymoon when we had no idea where to start.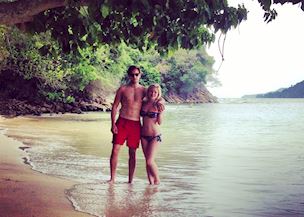 Mr and Mrs Goff travelled to Borneo for 14 days in June 2015, organised by Natalie
Thank you so much for planning our perfect honeymoon when we had no idea where to start. Audley suggested Borneo and we are incredibly glad that they did. From the moment we first contacted Audley, the service provided was fantastic, and special thanks to Natalie for rescuing us when we were accidentally locked on our balcony!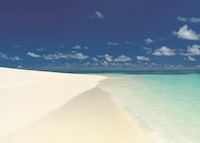 Denis Island has to be my favourite place to stay. The flight in to the tiny private island is truly special with stunning views of the powder white sands below. And once on the ground the whole property gives you a real sense of Robinson Crusoe but in the most luxurious style. Absolutely stunning beaches, brightly coloured marine life and the most comfortable accommodation and service you could wish for. For me it was paradise.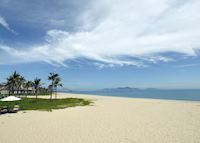 The Nam Hai, Hoi An in Vietnam combines all the very best things I believe make for a fantastic hotel. The first thing that strikes you is the stylish design and attention to detail. Service here is refined and unobtrusive. The beach is glorious: one kilometre (just over half a mile) of fine, light-golden sand fronting the property, meaning all the rooms are only a few steps away from the beach. The charming town of Hoi An is really more of a quaint village bursting with tiny shops and wonderful restaurants. It gives you a real taste of local Vietnam, which I loved.
I'll never forget when…
Patara Elephant Farm just outside Chiang Mai in Thailand really lets you get up close and personal with an elephant for the day. Here not only was I able to feed and ride my elephant, Patara also educated me about the well-being of the elephant and how to tell if it was healthy and happy. A real highlight of the day was getting totally soaked in the river and giving my elephant a bath. It was a delightful and memorable experience.