Vicky's passion for travel developed when she set off, solo, on a six month trip to Australasia aged 18. She continued to do many trips exploring most continents, Antarctica being the only exception.
On graduating from University, she was drawn to a career in the travel industry and has not looked back for the last seven years. Vicky has enjoyed some wonderfully unique experiences including canoeing the Zambezi River, watching lemurs jump between trees in Madagascar, hiking to Annapurna Base Camp in Nepal and travelling on a luxury train through the Stan's. However, after all this adventure, there is nothing she enjoys more than seeking out a paradisiacal remote beach.
Since joining Audley, Vicky has been lucky enough to revisit her favourite beach destination, the Seychelles, as well as the Caribbean. Outside of work she enjoys most things involving fitness, the great outdoors, skiing and music.
Speak to Vicky

Start planning your tailor-made trip with Vicky by calling
01993 838 256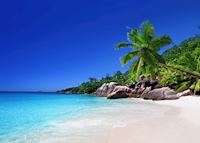 Seychelles
The definition of paradise. I've been to many beautiful beaches in the world but none compare to those of the Seychelles. The sensation of the pure white sand between your toes and the colours of the Indian Ocean are sublime, I could just sit on the beach gazing out at the sea for hours.
On top of this, the locals are very cheerful and content, and the food is deliciously fresh and tasty.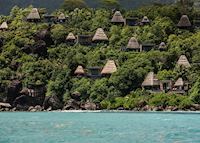 Seychelles
I truly love everything about this hotel: the expansive award winning gardens, the beautifully designed villas, the phenomenal views and the impeccable service.
Each villa has its own private pool, excellent amenities and with butler service you really are spoiled. The beach is stunning; quiet, great for snorkeling and paddle-boarding. The spa, surrounded by rainforest, is a haven that is out of this world. And finally, the piece de resistance is the food – absolutely phenomenal.
I'll never forget when…
One of the most memorable experiences on my visit to the Seychelles was at Bird Island, which is renowned for its nature. I was strolling on the beach when I spotted some commotion and people excitedly gathered at the northern point of the island. They were watching a turtle seek a spot to lay her eggs. I scurried to join them and avidly watched as she dug a hole, laid numerous eggs and covered it back up again so no predators would know it was there. We then helped guide the tired mother on the quickest route back to the ocean. It was like watching a live version of a David Attenborough documentary.