Chloë's interest in travel began at university, when she used her summers to explore Central America and Europe. Upon graduating, she applied her English degree to a job in publishing and developed an interest in travel writing, which eventually brought her to Audley's marketing team.
She took a break from work to explore Indochina and then spent five months working in a chalet in Méribel. Upon leaving the French Alps after a long winter, she was ready for warmer climes and decided to travel through Sri Lanka. Here, she fell in love with the teardrop island — its landscape, history, food and charming people.
Since returning to Audley, Chloë has revisited the Indian Subcontinent. On her most recent trip she explored all corners of Sri Lanka, including Jaffna and the east coast. She then hopped across several islands in the Maldives, her favourites of which are Baros and Velassaru.
Speak to Chloë

Start planning your trip to Sri Lanka with Chloë by calling
01993 838 361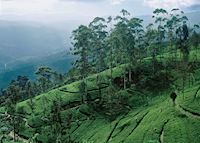 Sri Lanka
As you leave the humidity of Sri Lanka's lowlands and begin to climb, the landscape steadily rises around you to form undulating carpets of terraced, green tea bushes, interspersed with the white flash of waterfalls and eucalyptus trees. If travelling by car, the roads begin to hairpin back on themselves and the steep hillside falls away from you at every turn, revealing the entire valley on one side. Rural life will gently pass you by and you will be able to pick out the colourful saris of the tea pluckers amidst the shelves of tea bushes. The air is cooler and fresher up here and it is no wonder that the colonial British used the region as a place to holiday and 'take the air'. Whilst here, you can drive to Little Adam's Peak, Ella's Nine Arches bridge and Lipton's seat or, if you're feeling more adventurous you can hike up to the Knuckle mountains.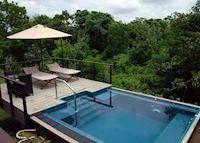 Sri Lanka
Time slows at Ulagalla. Set within a large gated garden of 58 acres, you may want to spend three or four nights here. The main building, once the mansion of a local village headman, houses the century-old lobby, restaurant and bar, which open out on to the large infinity pool. From here, there is a network of tracks that lead to private villas and suites. You have your own bicycle for your stay as well as use of the buggy service. During the day, explore the ancient city of Anuradhapura, try your hand at archery, horse-riding, or kite-making, take a walking or cycling tour into the village to learn about rural life in Sri Lanka, kayak on the reservoir or join a cooking class. Try the Kottu Rotti with your choice of curry. It's delicious.
I'll never forget when…
Adam's Peak, also known as Sri Pada (holy footprint), is Sri Lanka's fourth largest peak at 2,243 metres above sea level. It's believed that the Buddha left his footprint here during one of his three visits to Sri Lanka. Within the Christian faith, Christian's believe that Adam first set foot here when he was sent from Heaven. Unsurprisingly, it has been a pilgrimage site for centuries and, every night, local pilgrims and visitors hike to the summit to worship at the temple or simply marvel as the sun rises and reveals the mist clinging to the hillside. Because of the heat, it's advisable to start the ascent in the early hours of the morning so that you reach the top by sunrise. I began my ascent at 3am and, even in the relative coolness, had to stop to shed layers and drink water. The path is lit by lamps all the way to the top and, as it gets steeper, tourists take regular breaks to catch their breath and rest their legs. I walked part of the way with a local woman who has built her souvenir shop three quarters of the way up the mountain. She told me that she makes the ascent every night to sell her wares to visitors. She walked steadily in bare feet, carrying her young child on her back, barely breaking a sweat. I remember making a mental note never to complain about my own commute again.