During her childhood, Heather had always been encouraged by her parents to travel and interact with different cultures via exchange programmes and family trips.
A school programme to Hiroshima, Japan, proved to be a pivotal point in igniting her passion for learning about these different perspectives. It motivated her to study psychology at university, with the aim to further understand the implications of culture on behaviour.
After university she embarked on a unique opportunity to live like a local for a year in Sri Lanka, where she could fully immerse herself in a culture she had always wanted to explore. From Sri Lanka her Asia adventures continued as she crossed the Palk Strait into vibrant India — and more recently into China; a truly diverse destination rich in history and future potential.
Speak to Heather

Start planning your tailor-made trip with Heather by calling
01993 838 342

The tranquil and beautiful Ella, situated in the heart of the tea plantations is an absolute must in any trip to Sri Lanka.
This small village is the perfect location to unwind after a few busy days travelling in the Cultural Triangle. The train ride from Ella through the breath-taking hill country to Kandy is often a highlight for many people's trip. For individuals seeking a bit of adventure you can hike to local waterfalls, or make the hour journey to Haputale - the home of Lipton's Seat.
To get here you can enjoy a seven kilometre walk through local tea planters' villages to one of the most incredible viewpoints of the whole of Sri Lanka. On a clear day, you can see all the way across to Uda Walawe and across the south eastern province. It's a view that really exemplifies the diversity of this small island and will leave you amazed.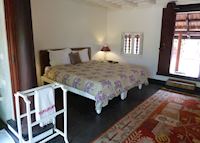 Set in the Tamil Nadu side of the Western Ghats in India, Rajakkad Estate is a beautiful property which has a fantastic homely feel.
They provide excellent personalised service and its integration and interaction with the local community provided a very different experience to what I experienced at other properties.
The journey to the property, with its hair pin bends and single lane roads, can be interesting but the views and the experience are well worth it.
I'll never forget when…
The most memorable experience of my recent trip was the evening I spent at Kulu's Safari Tents in Yala National Park, Sri Lanka. We went for a drive around the lake, and enjoyed a cold beverage watching the sunset. We then spent half an hour spotting the glistening eyes of the crocodiles in the lake before returning to the camp for a feast of delicious home cooked food under the starry Milky Way. A wonderful escape that really brought me back to nature.