My passion for travel started during my gap year when I went from Japan back to the UK through Southeast Asia and the Middle East before driving to Tajikistan from London through Europe and Central Asia.
After completing a history of art degree I worked in marketing before the travel bug returned. I quit my job and spent another year wandering through India from Ladakh in the far north to the palaces and deserts of Rajasthan, and the coastline of Kerala, before heading off across Nepal and Southeast Asia to Indonesia.
Following on from this I took up a job with Audley as an India Specialist sharing my passion for this vast and varied country and its unique history, wildlife, culture and food. Although I love the whole country, green and tropical southern India with its vast tea plantations, palm-fringed beaches, sprawling jungles and unique culture and cuisine have stolen my heart.
Speak to Jim
Start planning your trip to India with Jim by calling
01993 838 328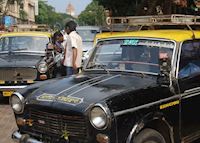 India
Often overlooked as a transport hub, Mumbai is definitely worth exploring. It is a cosmopolitan city that offers a glimpse of modern India and how it lives alongside traditional ways of life. You can explore everything from modern art galleries and world-class restaurants to the ancient wash pens of the Dhobi Ghat and street food stalls that have served the same dish for generations. I recommend taking the street food tour which will give you an unforgettable insight into Mumbai cuisine. Once you begin to understand the city you will find it welcoming, full of excitement and people who want to share their culture with you.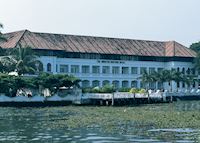 India
One of the best hotels in Fort Kochi, I loved Brunton Boatyard with its characterful 17th-century Dutch and Portuguese architecture. The hotel is set on the waterfront with views of the sculptural Chinese fishing nets and vivid sunsets visible from the rooms. A seafront swimming pool allows you to relax while watching local fishermen and boats pass by and the restaurant features a menu that also provides a history of influences on Keralan food. If you are in Fort Kochi for the Kochi-Muziris Biennale, Brunton Boatyard is also conveniently placed to explore the art exhibitions.
I'll never forget when…
I thought I knew a fair amount about Indian food, however, when you travel to the country and taste authentic cooking you quickly understand how much you have been missing out on. My first thali experience was unforgettable. You are served a huge silver dish with a few empty bowls which waiters then fill with curries, fragrant rice, spicy dhals and freshly-cooked breads. You share a table with strangers and get an insight into the local community. The taste of that food and the conversations you have with always remind me how incredible a destination India is.