From a young age Kate always had a strong desire to travel. In 2013 she embarked on an 18 month backpacking trip, spending most of her time in Southeast Asia and the Indian Subcontinent. It was this trip that really sparked her passion and fascination for India.
She has since been back to India five times, visiting both the contrasting northern and southern states and becoming entirely captivated by the diversity of the country — from the beautiful landscapes and nature of south India, coupled with the rich history, culture and architecture that the north has to offer. Since joining Audley she has returned, visiting Kerala, Tamil Nadu and The Golden Triangle.
Kate's connection with India is also combined with her other passion — yoga. Her yoga practice again took her back to India, the place of its origin, where she studied to become qualified as a yoga teacher.
Speak to Kate

Start planning your trip to India with Kate by calling
01993 838 362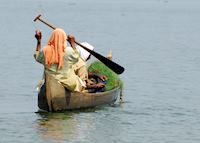 I absolutely loved exploring the tropical, tranquil backwaters of Kerala on a traditional houseboat. It's a great way of discovering rural Kerala, as you meander through the narrow passageways and watch the local village life unfold along the canal banks. Coupled with beautiful sunsets on the water and authentic Keralan food under a starlit sky, it is a firm favourite.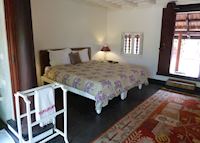 A small, unique hotel nestled in the foothills of the western ghats — Rajakkad Estate is a peaceful oasis set among lush forest, coffee and spice plantations. It's a relaxing retreat where you can enjoy the delicious organic, homemade Indian food in a beautiful garden setting, read a book in a hammock, visit the farm and nearby village or hike in the surrounding hills. I really enjoyed the unique open-air yoga platform overlooking the valley and plantations below. Here, you can practice yoga to the soundtrack of nature. A wonderful tranquil contrast to the chaos of Indian city life.
I'll never forget when…
One of my most memorable experiences in India has to be the 'Going to Bed Ceremony' at the ancient Meenakshi Temple in Madurai. Hindu devotees flock to the sacred temple to make offerings, pujas and witness the nightly closing ceremony. The ceremony is led by the priests carrying flaming tridents, this is proceeded by a percussion of cymbals, drums, horns and clouds of incense, as the lord Shiva is paraded around the temple in a palanquin. He is taken to spend the night in his wife's Meenakshi's chamber, A very atmospheric experience that offers a real insight into Indian spirituality.