Having embarked on exciting family holidays growing up, Katy leapt at the chance of a gap year after graduating in Journalism from Cardiff University. Four years later and Katy was still on her travels, until she decided to return to the UK and join Audley.
Inspired to first visit the Indian subcontinent after reading the book 'Shantaram', Katy spent several months exploring the diverse region. She was captivated by the vibrancy and culture, not to mention the stunning landscapes when trekking through the Himalaya.
More recently, Katy was delighted to return to Moscow and St Petersburg on a research trip. Her fascination stemmed from Churchill describing Russia as "a riddle wrapped in a mystery inside an enigma", and having travelled through Russia two years previously, her intrigue with the Tsars continues.
When not planning incredible holidays for her clients, Katy enjoys yoga and visiting her family in Devon.
Speak to Katy

Start planning your tailor-made trip with Katy by calling
01993 838 348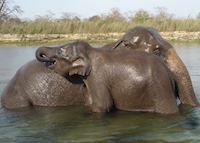 Chitwan National Park is an absolute haven for animal lovers and birdwatchers alike. Sprawling over an amazing 360 square miles, this is one of the best places to spot the beautifully illusive Bengal tiger, leopards and rhinoceros, and is home to over 500 species of birds.
You can explore the expanse in a variety of ways either on an elephant back safari, a boat ride down the scenic Rapti River or by private jeep. For the more adventurous, there is the option of a jungle walk; the ideal way to be at one with nature.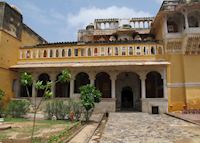 Chanoud Garh is a fantastic rural retreat located mid-way between Jodhpur and Udaipur, making it the perfect place to gain a real insight into the picturesque countryside of Rajasthan.
Whether you are just looking for a place to read your book in comfort away from the hustle and bustle, or wanting to meet the friendly locals and Sherpas on a village walk or a sunset jeep safari, Chanoud Garh caters to all.
Reflecting on the day with others over a campfire before indulging in the tasty local cuisine provided makes for a truly memorable experience.
I'll never forget when…
I will never forget the afternoon I spent exploring the marvellous Pashupatinath Temple, located on the banks of the Bagmati River in Kathmandu. A holy temple like no other, Pashupatinath is dedicated to the Hindu God Shiva and was an experience that satiated all the senses.

Visiting during the festival of Maha Shivaratri, hundreds of holy men and women descended from all over Nepal and many neighbouring countries. The atmosphere was truly captivating and one that will stay with me forever.