My love for travel began when I took a year off between school and university to spend six months backpacking around India and Southeast Asia. Still restless after my one trip, I spent a month each summer exploring India while studying philosophy at Newcastle University. I visited Himachal Pradesh, Kashmir, Rajasthan and Goa where my fascination and love for the subcontinent continued to grow.
Upon leaving university, I spent a brief period working at a renewable energy company in London, all the while saving for my biggest trip, an 8,000km (4,970 mile) cycle ride from Shanghai to Kathmandu. This trip took me through seven countries, however, I loved the wild and remote states of northeast India most of all. After spending a year working for a Nepali children's charity in Kathmandu, I felt it was time to come home and wanting to combine my passion for travel with my work, I joined Audley.
Speak to Rory

Start planning your trip to India with Rory by calling
01993 838 387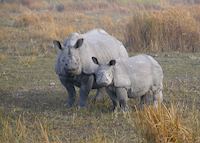 India
Nestled in the heart of the northeasterly state of Assam, Kaziranga National Park offers an opportunity to escape the well-trodden trail and see a wide variety of wildlife in its forests, wetlands and grasslands. The park is arguably the best place in the world to see the greater one-horned rhinoceros, an experience that tops my travel memories, but is also home to tigers, elephants, panthers, bears, water buffalo and swamp deer along with a host of birdlife. Wildlife aside, this park allows you to experience a side of India not many people are lucky enough to see.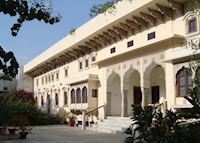 India
Set back from Jaipur's busy streets, Dera Mandawa is a stately property offering a tranquil retreat while visiting the pink city. It was once the home of the Jaipur's royal family and is still run by their descendants. Its regal design features a mix of Rajasthani and British elements with intricate local motifs surrounding grand courtyards and quiet nooks and crannies. With just eight rooms service is very personal and a highlight of my visit was sitting in the traditional courtyard eating a delicious home-cooked meal under the stars.
I'll never forget when…
Cycling through northeast India was incredibly rewarding but also very challenging. One evening, tired and hungry, I had begun to set my tent up for the night when a local man practically dragged me to his house where he proceeded to put on a feast of rice and daal for me while what seemed like half the state squeezed into his tiny home. Although the conversation was limited, it was a truly humbling experience that vividly characterised the generosity and kindness of the Indian people. For me, it was this welcoming spirit that made the country so special.