When finishing school Sam mustered the courage and embarked on a round the world trip. On her return she decided to pursue a degree in Geography and further her knowledge about the world she had just travelled. Sam's initial passion for India was ignited when studying a module at university; The Geographies of the British Empire. The rich history and fusion of cultures were fascinating, and a trip to India was a must!
Discovering a bulk of India by rail - starting in Delhi across to Darjeeling, then down to Calcutta, Chennai and Kerala and then up to Goa, Mumbai and finally Rajasthan. It was a whirlwind of colour and people and by far her favourite country she has visited. Sam has recently returned from her second visit to India, rediscovering her favourite bustling cities in Rajasthan and discovering the wildlife in the national parks of Central India.
Speak to Samantha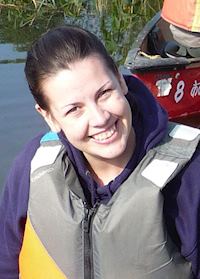 Start planning your trip to Indian Subcontinent with Samantha by calling
01993 838 311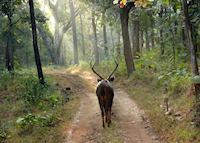 Having visited the other National Parks Central India has to offer I came to find that Satpura was very special. A real highlight was doing a canoe safari at sunrise along the Denwa River, it was so peaceful sat on the water watching the beautiful purples and pinks. The river provides life to so many species of wildlife, from the infamous tiger, to a plethora of migratory birds. Another highlight was seeing a family of around 16 wild boars swim across the river, a truly fascinating sight.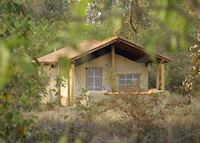 The hosts Katie and Jihan are wonderful. Their knowledge of the surrounding flora and fauna, coupled with their warm hospitality really made my stay in Kanha memorable. The six exclusive tents are set in such a picturesque landscape, there is a small lake within the property which attracts loads of the local wildlife. Each evening we sat around the fire and discussed the days safaris, after just two days I really felt a part of the lodge.
I'll never forget when…
My most memorable experience has to be an evening walk around Chandni Chowk in Old Delhi. For me this was the real India I had read about, it was the India I had imagined when sat planning my trip back home. Visiting in the beginning of November when wedding season was just underway, I watched the streets in awe from the Sisganj Gurdwara temple and they were busier than you could ever imagine. The narrow streets were filled with women choosing beautifully detailed fabrics and colourful bangles and street vendors selling every day commodities - a real insight into Indian life.