Lindsay has always been a keen traveller, listing Thailand, Hong Kong and Cuba among her top destinations. However, it was a chance opportunity to accompany her sister on a road trip spanning the east coast of Australia that truly ignited her passion for adventure.
Some of her best memories from around the globe include scuba diving the Great Barrier Reef and helicopter flights over glaciers. Always on the lookout for new challenges, she took the decision to pack her bags and head out on a yearlong solo trip around New Zealand, a country she had always held a fascination for — and it did not disappoint. Circling the country twice over, immersing herself in everything from working in the vineyards of stunning Marlborough, to skydiving in the Bay of Islands and skiing in Mt Hutt, she acquired an expansive and varied knowledge of the country. Since being invited to join Audley as a New Zealand specialist, she has relished the opportunity to return to her favourite destination and gain first-hand experience of the country the 'Audley way'. It was on this trip that she built a vast insight into the range of hotels, tours and itineraries on offer that she would now be designing for Audley clients.
The prospect of future adventure rarely strays from Lindsay's mind for long and she hopes to continue to travel and further her destination knowledge. However, her passion ultimately lies within New Zealand. This infectious enthusiasm is apparent when speaking with her and will be captured in the itineraries she creates for you.
Speak to Lindsay

Start planning your trip to New Zealand with Lindsay by calling
01993 838 741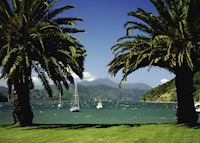 New Zealand
I was privileged enough to be able to call Picton and the Marlborough Sounds home for quite some time, as once I got there I just couldn't seem to leave. I had seen the pictures, heard the stories and done all the research, but nothing quite prepared me for how beautiful this area is.
A hikers paradise, there are trails and climbs in abundance, the most notable being one of New Zealand's Great Walks — the epic four-day long Queen Charlotte Track. I was equally captivated by the town's harbour area, where tall masts and pristine white sails line the shore, a fitting scene as you indulge in some of the freshly caught local seafood.
Perfectly placed at the northern tip of the South Island, the area benefits from one of the best climates in the country, while the awe-inspiring ferry journey down from the North Island feels more like a rite of passage than merely a crossing. The ship winds its way into the Marlborough Sounds where the ferry docks in Picton Harbour, revealing the first glimpse into New Zealand's globally renowned South Island.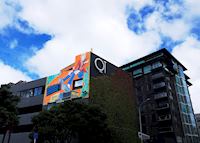 New Zealand
The sheer eccentricity of Wellington's Museum Art Hotel catapults it to the top of my favourite accommodation list. The walls are adorned with varying works of art, ranging from sculptures and self-portraits — to more uncommonly, a life-size cow and a collection of rare motorcycles.
Upon entering the lobby you will be struck by the bold, ornate decor and grandeur of the place; to say this hotel has character is an understatement. I was fascinated by discovering quirky details missed during my an initial glances, such as the small hippo figurines attached to the ceiling of the hallways, which made just walking through the hotel is an experience in itself.
If you're seeking a truly unique yet, extremely comfortable and well-presented property, the Museum Art is sure to surpass your expectations; I've never been to a hotel as interesting as Wellington's most iconic hotel and cannot recommend staying here highly enough.
I'll never forget when…
Swimming with wild dolphins in Kaikoura easily stands out as the highlight of my time in New Zealand. Watching the pod following in our wake, inquisitively pursuing our boat was an incredible experience — even before I jumped into the water. Once I had geared-up and got into the water, I was immediately surrounded by the whole pod, which playfully circled around me and back-flipped out of the water, just feet away.