Sarah's passion for travel was ignited after spending a university summer holiday backpacking around Australia. Since graduating in Psychology, she has notched up several thousand miles, covering most of Southeast Asia, volunteering as an English teacher in Bali, working for a year in Australia, as well as inter-railing around Europe. Despite this vast amount of exploring, New Zealand has always remained a firm favourite.
A self-confessed snow chaser, Sarah has worked two winter seasons in popular European Ski Resorts and loves being in the mountains. It was the beauty of New Zealand's South Island that prompted Sarah to spend her next winter season skiing at Cardrona Alpine Resort in Wanaka. Since then, she has embarked on two tours of the country and gained extensive knowledge of both the North and South Islands.
Sarah also has family in Queenstown, which means her inside knowledge of the area is second to none.
Speak to Sarah
Start planning your trip to New Zealand with Sarah by calling
01993 838 743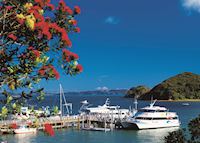 The Bay of Islands (also known as Paihia) struck me as one of the most beautiful natural wonders New Zealand has to offer. Golden sandy beached islands with lush tropical forests, sit amongst the glistening turquoise waters. Daily boat trips and water activities allow you to take to the ocean and explore the bay's abundance of marine life.
It was awe inspiring to get a bird's eye view of this incredible landscape on a scenic flight over the bay's 144 islands. The Waitangi Treaty Grounds in Paihia are one of New Zealand's most important historic sites as this is where the treaty was signed between British and Maori leaders in 1840.
The rich history of the area coupled with its outstanding natural beauty make this area a 'must do' on a New Zealand itinerary.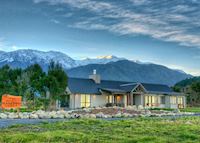 My favourite accommodation has to be Manakau Lodge in Kaikoura; a boutique B&B set in an idyllic rural location ten minutes out of Kaikoura town. The property has amazing views in every direction; having breakfast gazing out over the blue waters of the South Pacific is a real pleasure; as is opening up your patio doors out onto the towering Kaikoura Mountain Range.
Neil, owner and professional photographer, has ensured his property is every bit as beautiful on the inside as the scenery outside. A warm cosy lounge area leads onto contemporary bedrooms, equipped with all the latest mod-cons and stylish modern en suites. Stunning photography lines the property's walls and as an avid photographer myself, I left feeling truly inspired. Neil's warm hospitality paired with his impressive knowledge of photography made him a stand out B&B host.
I'll never forget when…
Something that I will never forget is taking a scenic flight from Wanaka into Milford Sound. After being strapped into a six-seater plane, we flew out over Lake Wanaka straight into the glaciers and mountains of the Southern Alps. The sudden change in scenery was breathtaking. Our pilot enhanced the experience with his insider knowledge, pointing out recent ice falls, Mount Cook and Mount Aspiring.

As we flew into the Sound, the plane descended so we were parallel with cascading waterfalls, hanging valleys and low-lying pockets of cloud. It was a surreal moment and made me feel very privileged to be immersed in this majestic landscape.