June grew up in Malaysia and among the books she devoured were Fernand Braudel's Mediterranean and Edith Wharton's 'In Morocco'. She has been fascinated by the world of Odysseus and the Levant ever since.
After getting her MA from the University of California in Irvine, and with her imagination fuelled by Greek, Ptolemaic and North African culture, she returned to Egypt and Morocco very often.
She has also worked in Ankara, Turkey where she lived near the Museum of Anatolian Civilisation, housed in a converted bedesten (a covered market). One winter, while on a break from learning Turkish, she travelled to Konya to learn about the whirling dervish rituals at the Mevlana Mausoleum, where the poet and 13th century mystic Rumi is buried.
When not exploring the ruins of Egyptian antiquity or the cobbled streets of Galata, Istanbul, June likes to walk along river banks, be it the Nile, the Bosphorus Strait or the Thames, and to cook tagines at home.
Speak to June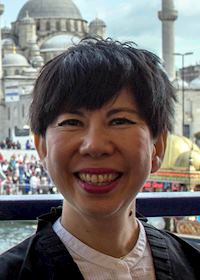 Start planning your trip to North Africa & the Middle East with June by calling
01993 838 429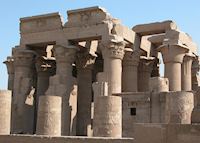 Nubia is the link between Africa and Egypt. I've always been interested in Nubian culture, which makes Aswan my favourite destination. I never tire of wandering through the souq and the Nubian Museum, home of this people's cultural memory after Nubia was flooded by the Aswan Dam. To escape the heat, I go to the Botanical Gardens on Kitchener Island where sighting the ibis, once worshipped as the god of writing, is my favourite pastime. I go by felucca and ask the boatman to go round the other side of the island to pick me up a few hours later.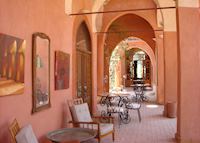 Al Moudira on the West Bank of Luxor is one of my favourite hotels. It's been called a Lebanese bungalow, a Turkish villa and a Syrian caravansaray, with many features salvaged from 19th century Cairo townhouses. I also love it because the owner Zeina Aboukheir has invested in the local community by employing half the population in the rural village. When building Al Moudira she had 150 local artisans and workmen on site. There was no running water or electricity to her property when she started building it, but there is now thanks to her.
June's Most Memorable Experience
My favourite place in Morocco reflects my interest in Berber culture - The Berber Museum at the Majorelle Gardens in Marrakesh. The boutique museum was opened by Pierre Berger (Yves Saint Laurent's partner) in 2011 and is dedicated to Berber women who have done so much to keep their culture alive through their traditions and their language. In fact, crafts practiced exclusively by Berber women like tattooing, weaving, jewellery making, basketry, and even make-up, have kept their culture alive since prehistoric times. With a history dating back 2,000 years ago they are the oldest inhabitants of North Africa.