Having been in awe of her mothers' adventurous travel tales, Kerry's passion for exploring new places started at a young age with frequent trips to see family in New Zealand. Reading Arabic & International Relations at the University of Leeds lead to Kerry moving out to Morocco, where she lived in the old medina of Fez for a total of 2 years. Here she undertook further studies in Arabic and gave English lessons to local Moroccan children. She visits Morocco several times a year to see her friends and practice her Moroccan Arabic.
Kerry also studied a lot about Egyptian culture and cinema at University and has recently been out on an extensive trip around Egypt with Audley. Kerry finds ancient Egyptian sites breath-taking, her favourite being Denderrah Temple. That said, Kerry has a large interest in modern Egyptian history and was fascinated by what she saw on a recent visit to Alexandria.
In her free time she enjoys cocktails with friends and singing in a local choir but is always happiest when chatting about her experiences in Morocco and her knowledge of Moroccan culture and history.
Speak to Kerry-Ann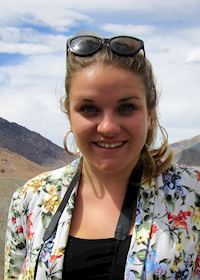 Start planning your trip to North Africa & the Middle East with Kerry-Ann by calling
01993 838 497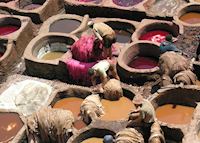 My favourite destination in Morocco has to be the old medina of Fez. Even though I used to live there, the place never ceases to amaze me and there's nothing I love more than exploring the windy streets and numerous artisanal souks. My favourite, which often gets overlooked, is the honey souk where you can taste a wide array of fresh, pure honey - truly delicious.
The riads in Fez are the best I have seen. They are hidden away behind rustic cedar wood doors and one would never expect the beauty that is awaiting inside. The charm of this magical city is something that has to be experienced but what really makes it for me is the warmth and hospitality of the city's people.
Jardin des Douars is a mesmerising place with beautiful gardens and 28 individually decorated rooms. It's a place to relax all year round, either by the refreshing pool or the traditional fireplace in your room. There is an intimate spa and a restaurant that serves some of the best cuisine I have tasted in the South of Morocco.
Located only a 20 minute drive from the beachside town of Essaouira, this property offers the opportunity of being surrounded by stunning foothills in an oasis of calm and yet only a stone throw from the rush of the ocean.
Kerry-Ann's Most Memorable Experience
My most memorable experience in Morocco is without a doubt staying in a Berber desert camp. The landscape of the desert was breath-taking and although a bit bumpy at times, the camel ride was one of my favourite aspects of this experience. Sitting on the camel as I ventured further in to the dunes, for me, was a time to reflect and relax as you leave the lights of civilisation behind. A night spent amongst the dunes was wonderful, eating incredible Moroccan food and listening to the local Berber musicians.

If you are lucky and the sky is clear, the desert offers the most incredible starry sky and is wonderful for star gazing. It is also truly worth getting up early to climb a dune and watch the sun come up in the morning as it lights a truly magnificent landscape.