Adam became fascinated in travel during his Gap Year when he explored and taught in East Africa, South East Asia and Australia. This also spurred his love for languages, and so he decided to study Mandarin as part of his university degree, which included a year living in Beijing and Shanghai. As well as enhancing his understanding of the culture and language, he took every chance to explore more of China.
Having graduated, he looked no further than joining Audley Travel and sharing his knowledge. While at Audley, Adam has had the opportunity to spend a month travelling along the Silk Road, covering more than two thousand miles from Beijing to Uzbekistan. Along the way he explored the deserts of western China, the mountain scenery of Kyrgyzstan, and the ancient markets of Uzbekistan.
When not arranging unforgettable trips for clients, Adam enjoys everything sport-related, attending gigs and discussing his next trip with friends.
Speak to Adam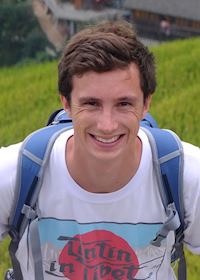 Start planning your trip to North Asia & Russia with Adam by calling
01993 838 234

The Chinese describe Yangshuo as "the most beautiful place in China" and I could not agree more. Surrounded by stunning limestone peaks and set beside the Li River, Yangshuo offers a perfect and relaxing getaway after the bustling cities of Beijing and Xi'an. Although predominantly famous for being the final stop of the Li River cruise, Yangshuo offers so much more, and the hotels that Audley offer around the outskirts of this small Guangxi town are simply beautiful.
During my time there I spent an afternoon at a cookery course that satisfied all my senses, cycled along the river bank and the limestone peaks, and witnessed the Liu Sanjie performance - a fantastic show choreographed by the director of the Beijing Olympic Opening Ceremony. Perfectly located near Guilin and the rice terraces of Longji, Yangshuo offers magnificent views and attractions that can easily be explored, and a relaxed atmosphere so rarely found on many excursions to China.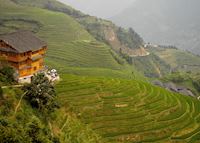 Located in the heart of Pingan village and overlooking miles of rice terraces, the views from Lian Lodge are simply stunning. With a wooden and rustic exterior, Lian Lodge stays true to the surroundings of the village. However, this by no means takes anything away from the beautiful interior and furnishings that each of its 16 rooms offer
Staying at Lian Lodge guarantees relaxation, and is always a welcome break after a long hike along the rice terraces or having arrived from one of the many busy Chinese cities. With great balconies, first class rooms and an intimate atmosphere, Lian Lodge will always offer a brilliant stay in one of the most beautiful settings in China.
I'll never forget when…
You would have thought that having visited three different sights of the Great Wall before, going for a fourth time may have been fairly tedious. However, going to the Jinshanling section just blew me away and the experience could not have been more magical. Jinshanling is approximately a two hour drive from Beijing, and draws much less crowds than the crowded spots at Mutianyu and Badaling.

Seeing the Great Wall first hand is something that simply cannot be described in words. The sheer scale of it is unfathomable, and sitting on one of the towers at Jinshanling gives you the perfect view as it winds from one mountain top to the next. Due to the spot being less visited, there are therefore less touts, and during my whole three hour trek on the wall I must have seen around only four other people. It is no surprise that the Great Wall is one of the Seven Wonders of the World, and simply sitting and enjoying the view at Jinshanling is a completely unforgettable experience.