Having learnt the language from an early age, my love of Russia and its culture was enhanced by school trips to St Petersburg. Drawn to the opportunity to spend more time there on a year abroad, I went on to study Russian and French at the University of Nottingham. My time in Russia was spent in the remote and beautiful countryside, volunteering at a therapeutic community for orphaned children.
Since joining Audley Travel, I've had the opportunity to expand my travel knowledge by journeying along the Silk Route through China, Kyrgyzstan and Uzbekistan, and spending time in Jordan. Having been to China's big cities, I enjoyed the contrast of the western province of Xinjiang, and was amazed by the natural beauty of Kyrgyzstan as well as the history of these former Soviet states. When I wasn't eating falafel and hummus in Jordan, I loved exploring the vast site of Petra.
Speak to Nick

Start planning your tailor-made trip with Nick by calling
01993 838 262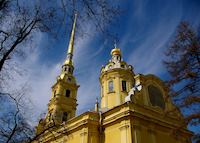 Strikingly more European in architecture and atmosphere than Moscow, yet still retaining a quintessential Russian style, St Petersburg is the ideal city for a first-time traveller to Russia.
Having served as the capital of the Russian Empire for more than two centuries, the city was the home of the Romanov Dynasty and is absolutely brimming with history. St Petersburg certainly isn't lacking in culture either, boasting one of the largest art collections in the world at the State Hermitage Museum, alongside the world famous Mariinsky Theatre and the preserved apartments of cultural icons Dostoevsky, Pushkin and Rimsky-Korsakov.
Walking along Nevsky Prospect, past Kazan Cathedral and the Church of the Spilled Blood into Palace Square and along to St Isaac's Cathedral, quite simply fills me with joy and I can spend days wandering the bustling streets and quiet canal embankments.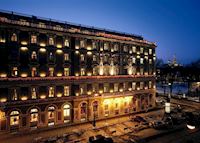 Opened in 1875, and one of the few remaining luxury hotels in Russia that was originally built as just that, the Grand Hotel Europe has opened its doors to some of the Russian greats and is famously where Pyotr Tchaikovsky spent his honeymoon.
I love the grand, classic feel as well as the amazing views over Arts Square, the Russian Museum and Church of the Saviour on Blood. My favourite part is the Europe Restaurant, serving top quality food in a stunning setting and with an intimate live ballet performance on Friday nights and a Jazz brunch on Sundays.
Even if you're not staying here, a visit to the restaurant is a must.
I'll never forget when…
In my opinion, a trip to Russia isn't complete without a trip to a banya (hot and cold bathhouse), and my most memorable experience came from my most recent trip to Moscow.

Having already made a few visits to a rural countryside banya, I decided to try out the famous Sanduny Baths, founded in 1808 and the oldest and most luxurious banya in the country. Hiring a private room, I spent two hours going between a very hot Russian sauna and a very cold plunge pool whilst periodically being hit and massaged with birch tree branches. Truly the most Russian way to relax.