Carolyn's love for travel started from the first time she went abroad, her top priority quickly became when and where she was going on holiday! Holidays turned into months of travelling in South East Asia and Australasia, and not surprisingly this led to a job within the travel industry which broadened her horizons even further.
It was then her love for Central America began. After a couple of trips to Central America, Carolyn decided she wanted to get to know this region even better. Basing herself in Costa Rica, she travelled throughout Central America, learning Spanish and completely immersing herself in the local culture for nearly two years.
On returning to the UK, Carolyn started working for Audley as a Central America specialist. She has recently returned to Mexico, Guatemala, Belize, Honduras and Costa Rica, revisiting some of her favourite places and having the opportunity to visit some new destinations and sample some of the excellent range of hotels Audley has to offer.
Speak to Carolyn

Start planning your trip to Central America, Mexico & Cuba with Carolyn by calling
01993 838 641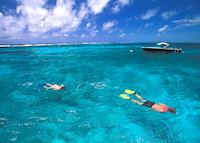 Belize
For me it has to be Belize, it has so much to offer in such a small area. Only 174 miles long and 68 miles wide it is such an easy country to travel around, especially if you take advantage of the internal flights. Having to check in only 20 minutes beforehand, they are a pleasure to use with the added bonus of offering fantastic views!
If you like diving, snorkelling or simply relaxing on a beach, then Ambergris Caye is a perfect choice to soak up the Belizean charm and explore the world's second largest barrier reef. For outdoor and nature lovers the Mountain Pine Ridge is full of wildlife, walking trails, rivers and waterfalls. For Mayan history then the archaeological sites of Caracol and Lubaantun are waiting to be explored. If it's lush rainforest and jungle you are after then head down south to Punta Gorda where you have plenty of national parks to choose from.
Belizeans are very welcoming and laid back and because they are an English speaking country, it gives you the perfect opportunity to get to know the locals over a rum punch! You have to see it to Belize it!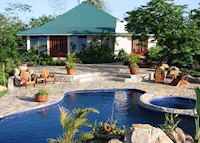 Belize
During my recent trip to Belize with Audley, I was fortunate enough to stay at the Hidden Valley Inn, set in the stunning Mountain Pine Ridge area of Belize. The small friendly hotel has 12 cosy cabanas with fireplaces, and these are set within 7200 acres of private reserve, for guest use only.
You are spoilt for choice with over 90 miles of trails to explore, fantastic bird watching and wildlife, great viewpoints and there are even 5 waterfalls on the grounds - I do not know of any other place where you can rent a waterfall for a day! Once you get back from a day exploring you could spoil yourself with a massage, or simply relax in the hotel pool or hot tub before enjoying a delicious meal.
I can also highly recommend having a cup of Hidden Valley coffee that is grown on the grounds. You are sure to enjoy a visit to the Hidden Valley Inn, it really is a great way to experience this beautiful part of Belize and it is a paradise for outdoor lovers.
I'll never forget when…
I have been to a lot of amazing places during my travels, but Semuc Champey in Guatemala is one of the most beautiful and tranquil places I have been to.

Lying in the turquoise pools of a natural limestone bridge with the River Cahabon flowing underneath, gazing at the lush greenery and listening to the sounds of the jungle. I will never forget the magical energy here that left me with the biggest smile on my face!