Jack first travelled in South and Central America prior to university and has been back several times since. He loved the wildlife, stunning scenery, cultural sites and sense of adventure, but it was the language and the fascinating history of the region that led him to studying History and Spanish. After working in Puerto Rico for a year and then in the American Mid-West, Jack then moved into the travel industry.
Since joining Audley, Jack has had the chance to revisit Costa Rica and was then introduced to Cuba, a truly intriguing country full of history, culture and wonderful landscapes. His highlights of these countries include driving around Havana in a 1950s Cadillac, wildlife watching in the cloud forests of Monteverde and releasing baby turtles onto a deserted Pacific beach at sunrise.
Speak to Jack
Start planning your trip to Central America, Mexico & Cuba with Jack by calling
01993 838 685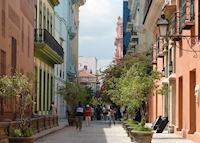 Havana is an excellent city and is like no other. I was lucky to be able to explore Habana Vieja, dance with Buena Vista Social Club during a live performance, enjoy the architecture and learn a lot more about Cuba's revolutionary history.
This is a place that I expect will change a lot over the next few years. There are still plenty of Habanero families occupying beautiful central buildings and so the streets are full of everyday Cuban life. Walking around the heart of the city in no particular direction is what I would recommend above all else as there are so many interesting side streets. It's not congested with cars and there are plenty of small bars dotted around, so it was a fantastic place for photography.
There are enough activities here to fill several days. My favourites included Revolution Square, the four plazas in Habana Vieja, the Malecón and the Museum of the Revolution.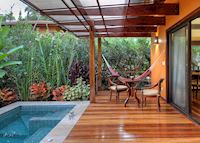 Nayara Springs is situated directly below the Arenal Volcano in Costa Rica, and is a fantastic place to relax.
With several top class restaurants offering a variety of cuisines, luxurious bungalows with Jacuzzis and plenty of space, plus a walkway across a river, it's very easy to see why this was voted the second best hotel in the world on Trip Advisor.
Nayara Springs is a secluded spot that I would recommend to anyone that is looking for tasteful luxury in a beautiful part of Costa Rica.
Jack 's Most Memorable Experience
The Osa Peninsula is an untouched wildlife paradise on Costa Rica's Pacific coast.

I was staying at Bosque del Cabo, a lovely lodge with a pool, sea views and plenty of hiking trails. One morning, I woke up early so lay in a hammock on my terrace overlooking the Golfo Dulce. It was nearing the end of the whale watching season so I didn't hold out much hope, but I kept an eye out to see if I would spot anything that would break the calm surface. After just 20 minutes I saw a fluke appear and disappear again, before later seeing the whale emerge just 200 metres further along, blowing water into the air and more clearly visible. I then went up for a cooked breakfast and a swim. That was a pretty exceptional start to the day.