After studying tourism and marketing at university, Spanish born Leticia spent a decade coordinating holidays and tour guiding in most European countries, Russia and Morocco. She distinguished herself by becoming a top performing guide and she was nominated for the World Best Guide of the Year awards by Wanderlust magazine in 2016.
Leticia says "I try to adapt the tour to individual requests to bring a much more personal and intimate experience for all. My favourite part about creating tours is listening to people's excitement when they are about to discover the places they have been dreaming about for so long. The most satisfying part of the job is receiving emails months later from people still raving about their holidays".
She is passionate about local cuisine and architecture, and working for Audley allows her to draw on her specialist knowledge in designing itineraries around Mexico, Belize and Guatemala. She has travelled extensively through these countries and she is passionate about sharing her experiences.
Speak to Leticia

Start planning your trip to Central America, Mexico & Cuba with Leticia by calling
01993 838 658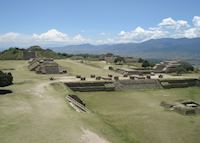 Oaxaca is an architectural gem filled with top class museums such as the Textile Museum and the Museum of Culture, magical festivals like the Day of the Dead, colourful handicrafts, pre-Columbian ruins like Monte Alban, and baroque churches encrusted with gold. Perhaps more importantly for food lovers, it's also referred to as the culinary capital of Mexico. It's packed with inexpensive markets and elegant five-star restaurants serving some of the tastiest food in the world.
Casa Palopo, by Lake Atitlan is a gorgeous hotel situated on a hill that provides stunning views of the lake. With just eight rooms, the friendly staff take good care of you and they have every detail covered. They even lit the log fire for me while I was reading a magazine in the living room because they thought I could be cold in the Guatemalan winter. It was 19C (66F)!
The rooms are spacious with lovely furnishings and colourful traditional decoration. There is a pool, comfy living areas, like a warm and cosy sitting room or a terrace with the best views of the lake and the volcanoes behind it. And just to top it off, the hotel restaurant serves up delicious gourmet fresh dishes by candle light.
I'll never forget when…
My most memorable experience has to be visiting Chichicastenango's church and cemetery for the Day of the Dead festival in Guatemala. Entering a Catholic church and seeing how the rituals performed are not Catholic but Mayan, and how locals pray and give offerings was so intimate and so special that I felt incredibly lucky to be there and be part of it.

After visiting the church my guide took me to the cemetery where we walked together among the brightly decorated tombs and flower adorned graves. We shared with the locals their passion for the only day of the year where they reconnect with their lost loved ones.