Rebecca's passion for travelling stemmed from her love of languages, graduating with a first class honours in Business Management and Spanish from Nottingham University. She put her Spanish to great use on her year abroad, where she spent six months working in Madrid, as well as six months studying in Chile, travelling around South America during her time off.
After creating the best memories of her life and majoring in tourism in her final year of university, she decided she wanted to create memories for other people and that the travel industry was for her.
Since arriving at Audley, Rebecca has joined the Central America team and has added Cuba and Costa Rica to her map. Personal highlights include watching the giant green turtles lay their eggs on the beaches of Tortuguero in Costa Rica, as well as cruising down Havana's highways in a vintage Chevrolet.
Speak to Rebecca
Start planning your trip to Central America, Mexico & Cuba with Rebecca by calling
01993 838 646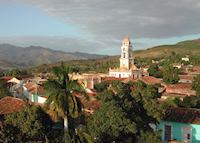 There was something about Trinidad that really stood out for me. The UNESCO World Heritage site is everything I imagined it to be and more. Its terracotta buildings, cobbled streets, white sandy beaches of Ancon beach, the rolling hills nearby, and of course, the famous Casa de la Musica, where I put my salsa moves into practice, dancing the night away with the locals.
The city radiates that typical Cuban charm that so many people want to experience.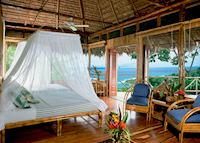 It's hard to put into words what it's like down in the Osa Peninsula, but somehow Lapa Rios Eco lodge has combined nature, luxury and sustainability all into one. The lodge is located at the most southern tip of the country, offering panoramic views of the forest canopy and ocean below.
I can still remember sipping on a smoothie in their bar while toucans and howler monkeys sat in the trees above me. Every room has its own private terrace with swinging hammocks overlooking the bay. It really is a place not to miss.
Rebecca's Most Memorable Experience
It's been my childhood dream ever since I can remember to gallop across a deserted beach. Maybe I have grown up watching too many romantic films, but in the Osa Peninsula, Costa Rica, I finally had my Hollywood moment. We decided to book the horse riding tour through El Remanso Lodge, and our guide, Miguel, was a fascinating local man who never wore shoes.

We rode the horses through a winding trail deep in the forest and through rivers, learning all about the flora and fauna as we passed. I will never forget the moment when we reached the passageway opening up to the wild Pacific Ocean. We were the only people for miles around as our horses raced along the white sandy beaches, with scarlet macaws flying above and the waves crashing at our feet. Miguel then climbed up the trees (barefoot of course) to fetch us fresh coconut water. Childhood dream, fulfilled.