Amanda embarked on a mission of self-study of Japanese aged just 12, devouring every song, movie, and phrase book she could get her hands on. She moved to Seattle to study Japanese Linguistics at the University of Washington D.C. Diploma in hand and desperate to escape the Seattle weather, she moved home to New England and washed ashore on the beaches of Nantucket where she spent three years working in the island's hospitality industry. Eventually island fever set in and she moved back to the mainland to work for Marriott International. On any given trip to Japan, Amanda can be found dancing up a storm at pop concerts or frequenting a neighborhood "izakaya" restaurant in search of local libations and delicious food. She enjoys aimlessly wandering the streets of Tokyo and finding new places to explore.She was thrilled to join the Audley team as a Japan Specialist and delights in helping clients discover a country that she thinks of as a second home.
Speak to someone who's been there
Start planning your tailor-made trip by calling one of our destination specialists on 01993 838 100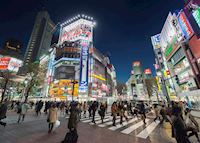 Japan
The first time I set foot in Tokyo, I didn't know what hit me. I had never seen a city so vibrant, sprawling, overrun with people, and confusingly clean despite a noticeable lack of public trash receptacles. It feels as though the city has a pulse--there is an electric current running through Tokyo that gives it a life of its own. Though I was lucky enough to call it my home for over a year, I returned to the U.S. feeling like I had really only scratched the surface of everything that the city has to offer. I still travel there every year and never grow tired of finding something new or something that's changed in the landscape of the city. Tokyo has everything one could ever want, from hidden rooftop gardens to awe-inspiring temples and more stores than you could ever hope to visit over the course of an entire lifetime, whatever your shopping budget! It is a must-see destination and the first place in Japan that I truly fell in love with.
I'll never forget when…
Even though I have almost two years of experience on the ground in Japan under my belt, I never visited the Japanese Alps until my most recent trip. It was the middle of January and there was snow in the forecast, but that didn't stop me and my travel partner from setting out to try and walk the Nakasendo Highway from Magome to Tsumago! We walked for about five minutes before realizing that the entire path through the mountains was covered in solid ice and we were in over our heads. There were still a couple of hours before we lost the light so we set out to explore the town instead. We barely saw another soul, as we were the only ones crazy enough to be traveling there in the middle of winter. As we made our way back to the bus stop, we were rewarded with magnificent views of the sunset over the mountains -- a fantastic photo opportunity! I look forward to going back when the weather is more cooperative but seeing Magome in the quiet of winter was an experience that will stay with me for a long time.