Ellie's passion for travel and new experiences started with a solo tour of Australia and New Zealand aged eighteen. On completion of her MSc in French and English at the University of Edinburgh, she went in search of the perfect career but having always been drawn to Asia, she decided to leave her sensible side in the UK and head off on a six month tour of the region.
It was here that the combination of smiles, fragrant food and diverse cultural experiences cemented the idea that working in travel was the road to take. If she can't travel all the time, she wants to talk about it. Since starting at Audley, she has travelled in Borneo and Indonesia extensively.
When not building the perfect itineraries for clients, Ellie is a keen photographer, plays music and spends far too much researching her next travel destination.
Speak to Ellie

Start planning your trip to Southeast Asia with Ellie by calling
01993 838 167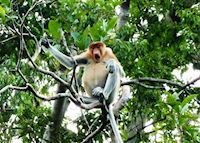 Having travelled extensively through Asia, the experiences I had in Borneo would probably make the island a personal first choice of mine.
Being able to couple both glorious, white-sand beaches with lush rainforest means that you can combine total relaxation with adventurous treks, leaving no two days the same.
Being a foodie, due to the country being so culturally diverse, each meal is an array of unique tastes flavours which keeps even the most discerning of palates satisfied.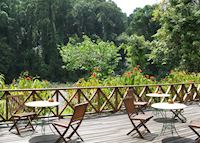 Having stayed in some incredible places in Asia, it's hard to choose just one. When pressed, a stand out experience was waking up in the heart of the rainforest at Borneo Rainforest Lodge in Danum Valley.
Surrounded by lush jungle and the river below, the only sounds to be heard were a chorus of tree frogs and the distinctive calls of gibbons in the distance. It was during that moment of calm that I realised how truly spectacular this place was.
I'll never forget when…
One of the most memorable experiences in Asia would be mimicking the calls of individual birds with my private nature guide while trekking the trails in the Danum Valley. Standing high above the treetops on the canopy walkway at Borneo Rainforest Lodge, I was taught the calls of some of the most prevalent birds of the rainforest. It was upon hearing the distant responses that made me realise how awe-inspiring being so close to nature can be.