I've been immersed in the world of travel and hospitality since a young age and have been lucky enough to travel to many destinations across the USA, Europe, Southeast Asia and the Middle East. My first few years of full-time employment involved working in some of the most renowned five-star hotels in Dubai and the UK but I still made time to travel at every opportunity. This subsequently led me to a role at Audley in the Southeast Asia team, a part of the world which encompasses everything I love about travel. Since joining Audley, I've explored Thailand and Malaysian Borneo discovering all that these countries have to offer. Along with a love of travel and exploring different cultures, I enjoy singing and learning guitar, swimming and trying out as many restaurants as possible.
Speak to Emily

Start planning your trip to Southeast Asia with Emily by calling
01993 838 263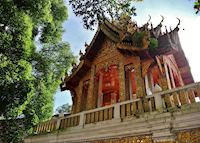 Although Chiang Mai is Thailand's second largest city, what I absolutely love about it is its small town charm and atmosphere. Everything seems to move at a much slower pace. This in itself captivated me from the moment I arrived but there is also so much to do and see here. Northern Thailand's distinctive and aromatic cuisine derives from the region, so if, like me, you're an avid food enthusiast, it's a great place to explore. It is also a very walkable city with an ever-growing arts scene, lots of historic temples and a bustling night bazaar.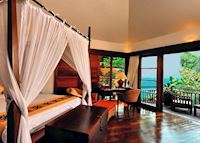 Overlooking the peaceful and serene Maenam Beach in Koh Samui, the Belmond Napasai's location is idyllic. It's an utterly tranquil spot to completely unwind and relax but also incredibly scenic. I was lucky enough to have a sweeping view from the terrace of my villa and it was blissful hearing the sea at the shore just below. The villas are also well spaced out among the tropical vegetation, giving you a further sense of complete isolation.
I'll never forget when…
Taking a boat trip along the Kinabatangan River is a memory that I will always treasure. We spent the afternoon cruising along the river and managed to spot proboscis monkeys, orangutan, colourful birds and a pygmy elephant. The time on the boat absolutely flew by and before we knew it the sun was setting and creating beautiful patterns on the surface of the water. Once we had been engulfed by the darkness we slowed down to stop at a tree that was lit up like a Christmas tree by fireflies; it was a fitting end to a remarkable day of nature spotting.