'Travel is the only thing you buy that makes you richer'. Marie discovered this when she embarked upon her first gap year to Asia and Australasia. This included a visit to Japan where she was mesmerised by the unique culture and landscapes.
Marie studied Geography, alongside Chinese and Japanese, at the University of Sheffield. This was the beginning of her travel bug; she has since explored over 90 countries and counting. After a few years of backpacking, Marie trained as a teacher and became Head of Geography at a British International School in Dubai. This provided a base for further exploration of the Middle East and Asia, including travels back to Japan.
Marie decided to follow her love of travel and joined Audley as a Japan Specialist, where she enjoys sharing her knowledge and experience of Japan with others.
Speak to Marie

Start planning your trip to Japan with Marie by calling
01993 838 169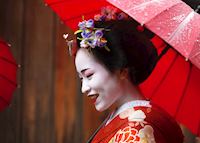 Kyoto is one of the finest cities in the world, where everyone should visit at least once in their lifetime. It is a city where getting lost is exciting. There is something new worth discovering around every corner, from the two thousand temples and shrines to the palaces, castles and gardens. The futuristic train station, which is an attraction in its own right, contrasts with the traditional Gion district where you may even encounter a geisha leaving a local tea house.
As well as being culturally rich, Kyoto is a naturally abundant city full of bamboo groves, relaxing onsen (hot springs), riverside walks and forest covered mountains.
One of my favourite locations in the city is Fushimi Inari, where you can journey through thousands of vermilion torii gates entering the forest of Mount Inari.
I'll never forget when…
One of the highlights of my time in Japan was undoubtedly sand bathing in Beppu, on the southern island of Kyushu. This is a unique experience, even for Japan — getting buried up to your neck in volcanic sand and heated by the hot springs below. The heat and heaviness of the sand took some getting used to, yet it was a strangely calming spa treatment. After fifteen minutes of 'cooking', I felt like a weight had been lifted off my shoulders — quite literally! The onsen (natural hot spring) bathing afterwards provided the perfect end to a relaxing and rejuvenating day.