Since finishing his studies in 2004, Mat has lived and breathed all things travel. He's ventured out on several worldwide journeys, supplemented by eight years of experience working in the UK travel industry. Over four separate trips he has also worked, lived and travelled all over Australia, and spent a summer coaching football in America.
Along the way Mat has enjoyed unforgettable experiences, including fulfilling a boyhood dream of experiencing Boca Juniors vs River Plate in Argentina (and the steaks). However, his heart has always been in Southeast Asia, with his Thailand visits now into double figures and Indonesia slowly catching up. He's also travelled extensively to Laos, Cambodia, Vietnam, Malaysia, Singapore and the Philippines, which gives great perspective as each country offers something different.
Being a huge foodie, Mat loves the fiery flavours of Southeast Asia. As an avid surfer Bali always has a special attraction for Mat too. For a true experience Mat always recommends including extra time to wander and lose one's self in a destination. Mat is also a keen film maker, recently co-producing and acting in a film which premiered at a London Cineworld, as well as making regular video blogs from his travels.
Speak to Mat
Start planning your trip to Southeast Asia with Mat by calling
01993 838 162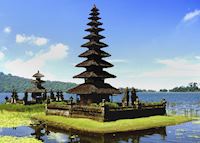 With just so much on offer in such a relatively small area, Bali really does have pretty much everything anyone can possibly want from a destination.
You could be on a sandy beach in the morning, trekking up a volcano in the afternoon and spending the evening having a cliff top sunset dinner as you watch waves the size of houses crash down on the beach below. Or, maybe you'd like to witness — in my opinion — the most atmospheric and magical traditional dances on the planet: the Kecak dance. It has fire dance performances to blow the mind of even the most travelled among us — or, perhaps, the most hard to please.
Throw in the fact that you have some of the most beautiful temples and ruins, wreck diving, beautiful islands and an endless list of adventurous activities, means Bali really has something for everyone.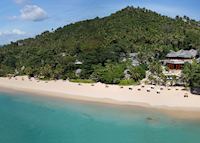 The Surin in West Phuket gets top marks from me for everything a luxury beach resort should be. I love the white, sandy beach — arguable the best beach in Phuket, and the fact that it only shares this location with the Amanpuri property — makes it even more special.
It's within walking distance of the most fashionable beach in Phuket, Surin Beach, which has an array of classy restaurants and smart, funky modern beach bars as well as the usual smaller, cheap local beach restaurants and bars. It's very 'honeymooner cool' but offers the perfect, safe environment for families too, albeit families who don't want to be overrun with other families.
I'll never forget when…
On a day trip from the beautiful island of Bohol in the Philippines, we travelled across the calm turquoise waters to explore and snorkel the protected reef around nearby tiny Pamilacan Island. Travelling by local fishing boat we hoped to see some dolphins en route, which we did, but we also were joined by a family of sperm whales, basking with their young all around our tiny little boat.

Another water-based experience was snorkelling with a school of 30 to 40 majestic manta ray in the Komodo National Park, Indonesia.

Both experiences really touched me and made me realise just how lucky I am.