Before going to university, Simon's first travels to Japan saw him scaling Mount Fuji, exploring the temples of Kyoto and the streets of Tokyo. It was this initial trip which inspired his love for travel and Japan. It also inspired him to study Japanese at university.
Throughout his degree, he returned to Japan on multiple occasions to live and study in the Kansai region and develop his knowledge of the language and culture. Upon graduating, he headed for the bright lights of Tokyo to work, but this didn't stop him continuing to explore the rest of Japan. Highlights of his travels included surfing in Shimoda and skiing the slopes of Niseko.
Having returned to the UK, Simon then joined Audley which has enabled him to share his in-depth knowledge of Japan and to help his clients have their own fantastic experiences in the country he is so passionate about.
Speak to Simon

Start planning your trip to Japan with Simon by calling
01993 838 168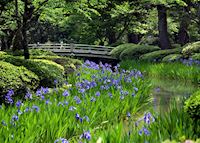 Japan
Kanazawa is a quaint coastal city on the North coast which is well known for its well preserved Edo districts and nationally-renowned handicrafts.
On top of being one of the most historically significant parts of Japan for samurai and geisha culture, the city has a really modern, arty feel to it. With unmissable attractions such as the Kenrokuen Gardens, 21st century art museum and Omicho fish market. Kanazawa houses offer both traditional and modern aspects of Japan all within walking distance making it an essential part of any Japan itinerary.
The city is often referred to as a smaller, more compact Kyoto, but don't let a Kanazawa native overhear you saying so.
I'll never forget when…
My most memorable experience in Japan was in Hiroshima watching the mighty 'Hiroshima Carp' baseball team at the Mazda Zoom stadium. Well known throughout the country for having the most passionate fans in the league, the atmosphere was electric. Despite a tough 5-4 loss to the Tokyo Giants, I was welcomed by the other fans and invited to an Izakaya (Japanese-style pub) for some regional speciality dishes and a few sakes (rice wine). In true Japanese fashion the night ended at a karaoke bar in central Hiroshima. It was a great example of the world renowned Japanese hospitality and a truly memorable experience.