Sophie's love for travel began whilst she was studying for her degree in history at the University of York. It started with a climb of Kilimanjaro and continued with a three month work project at an NGO in Mali, West Africa after graduation.
Inspired to work in the travel industry, Sophie moved from Manchester to Brighton to begin a role in adventure travel. It was here that her love for Southeast Asia developed, culminating in a trip to Thailand and Cambodia. This led Sophie to Audley in September 2015, adding Borneo to the mix, which quickly became one of her top destinations.
Combining her love of trekking, wildlife and culture, it's pretty perfect, and one of her favourite places in the world. In her spare time, Sophie enjoys travel writing, reading and exploring the countryside, as well as trying to cook some of the amazing food she's tried on her travels.
Speak to Sophie

Start planning your trip to Southeast Asia with Sophie by calling
01993 838 103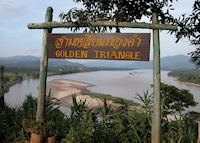 The absolute highlight of the Golden Triangle in Thailand, was opening your curtains in the morning, knowing that you could see Laos, Burma and Thailand out of your window.
The temptation to step across the river into Burma was almost too much, and with the added bonus of being surrounded by elephants, it was by far my favourite place. The scenery is stunning, and listening to the rumble of thunder over the mountains in the evening added a magical touch to an already very special destination.
Both camps at Elephant Hills are brilliant, but the scenery at the Rainforest Camp is just stunning.
You stay in a luxury 'tent' which is floating in the middle of the Cheow Larn Lake, surrounded by mountains, jungle and wildlife. You can jump straight from your tent into the lake to cool off, and you'll be awoken in the morning by the sound of gibbons calling to each other across the lake. Kayak around the many islands and find yourself completely at one with nature, yet with all the luxuries of modern life.
I'll never forget when…
After trekking for three hours through the Borneo jungle in the Danum Valley, my guide stood completely still and began listening for something. Out of the trees, just to my left, was a male orangutan. He seemed completely unconcerned by us and carried on eating fruit for a couple of minutes before disappearing into the forest.

This was my first experience of a completely wild orangutan and I felt so honoured to have seen him, especially as we were the only ones that day to spot him. Add that to the feeling of being in primary rainforest, combined to make the whole experience pretty magical.