With strong family ties to Japan, Sophie has fond childhood memories of visiting her mum's hometown of Tokyo, as well as travelling to Kyushu and Okinawa with relatives.
Having an interest in different languages and cultures whilst growing up, she decided to study Spanish and Arabic at the University of Exeter, during which her passion for travel grew as she spent extensive time in Egypt and Latin America.
After graduation she put her language skills to use matching clients from all over the world with holiday rental properties in London. However looking to get back in touch with her Japanese roots, she decided to join the Japan team at Audley.
While with Audley, Sophie travelled to both familiar and new destinations in Japan, enjoying the food, exploring the Japanese Alps and spending time in its vibrant cities.
Speak to Sophie

Start planning your trip to Japan with Sophie by calling
01993 838 359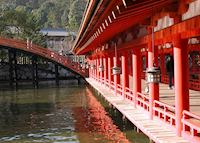 Miyajima is known for its iconic "floating" torii gate which stands in the shallow waters of the bay. Whilst the island is often a popular day trip from Hiroshima, I would highly recommend spending a night on the island. Not only does it allow you to view the torii at different tides and while illuminated at night, but also Miyajima offers a nice contrast to the bustling cities of Japan.
Also on the island you will find a population of friendly deer and also you can enjoy panoramic views of the area from the top of Mount Misen, which is accessible by a cable car or via several well marked walking trails..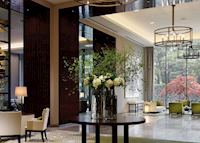 For me, the Palace Hotel Tokyo stood out from the crowd in Tokyo. Not only are the rooms spacious and modern, with some light Japanese touches, but it's currently the only hotel in Tokyo to offer rooms with a balcony. Furthermore, as the hotel is ideally situated in Otematchi, next too the Imperial Palace gardens, the balconies enjoy a wonderful view of the gardens which contrasted with the high-rise buildings surrounding it.
The hotel is equipped with great facilities including a pool, spa and gym and has three restaurants for you to enjoy during your stay.
I'll never forget when…
Having spent most of my visits to Japan in my mother's hometown of Tokyo, spending time at Sasayuri-ann, a beautifully restored and refurbished traditional Japanese thatched house in Nabari, Nara prefecture offered something unique and memorable to my most recent trip to Japan. The owner, a Mr Matsubayashi shared with us snippets of his daily life as a shugendo monk, including a walk through the Akame 48 waterfalls area, which has been a sacred area for the monks to pray for hundreds of years as well as a training ground for ninjas. Not only this but he arranged for a traditional Japanese flautist to play at the villa.