Aiste has an outgoing and infectious personality which has led her to a successful career in the performing arts. She has gained a degree in Theatre Arts and has further extended her dance and theatre skills, which have seen her featuring in television, film projects and stage shows across the globe.
She loves exploring new cultures, cuisines and immersing herself in new experiences which have included luxury cruises in the Caribbean, living and working in the Middle East, and backpacking across the east coast of the USA.
Since joining Audley as a specialist, Aiste has re-visited America and is ready to help you enjoy and immerse yourself in all that is the USA.
Speak to Aiste

Start planning your trip to Canada & the USA with Aiste by calling
01993 838 790

New Orleans in Louisiana sits on the Mississippi River near the Gulf of Mexico. Nicknamed the 'Big Easy,' it's known for being a city of many different cultures and the birthplace of jazz with intimate bars where saxophonists play each night.
During the day you can wander through the historic French Quarter, weaving through the Caribbean-colonial architectural streets. I'd recommend visiting its galleries full of Mardi Gras masks and experiencing its cuisine, such as gumbo, grits, and beignets from Café Du Monde.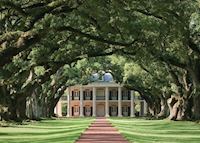 This historic landmark dates back to 1839 and its oak tree landscape makes it one of the most photographed plantation homes. Each of the cottages feature up-to-date luxury amenities and all the latest technical features. While staying here you can stroll through its grounds, take a tour of the mansion itself and enjoy a famous southern drink known as a 'Mint Julep'.
I'll never forget when…
During the 40th anniversary of Elvis Presley's death, I had the opportunity to travel to Memphis during Elvis Week and experience the most infectious and exhilarating atmosphere, as fans from all over the world came to honour the 'King of Rock 'n' Roll' and his music.

As part of the 'Elvis Experience,' I visited his home, Graceland, and got to see his iconic jumpsuits and flashy pink Cadillac. I then headed to Beale Street to see Elvis impersonators, listen to some soulful blues and eat some southern fried food.