Ida has always had a fascination with new places and cultures. Her love of the USA was first sparked at a young age when on holiday with her parents. Since then she has extensively explored more of this intriguing country.
Originally from Sweden, Ida moved to the UK to study at university, during which time she had the opportunity to explore the USA further and immerse herself into the American culture as an exchange student. After a stint in finance, Ida decided on a career change to follow her true passion - travel.
Since joining Audley, Ida has re-visited the USA to explore some of its most spectacular national parks, including Yellowstone, Grand Teton, Glacier and Yosemite, as well as her favourite stretch of coastline, the Pacific Coast Highway in California. In her spare time Ida particularly enjoys cooking, much of it inspired from her travels around the globe.
Speak to Ida

Start planning your trip to Canada & the USA with Ida by calling
01993 838 781

I always look forward to returning to Santa Barbara, a stylish area with lots of Spanish influences. It provides a great stop between the beautiful Big Sur and busy Los Angeles, with an ideal combination of an upmarket beach atmosphere and a rich history and heritage, not to mention the great selection of restaurants and boutique shops.
As it's so close to some wonderful vineyards, the city has developed a great Urban Wine Trail which allows you to explore some of the local tipples at your leisure.
I love taking a stroll along the palm-tree lined beach between the marina and pier after a nice meal, finishing a day of shopping with a relaxed drink in a downtown bar, or simply soaking up the last rays of sunshine and watching the dolphins swimming in the surf.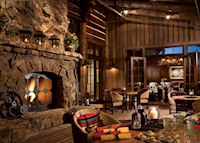 Brush Creek Ranch in south Wyoming is a fantastic luxury experience complete with great food, a wide range of ranch activities and relaxing spa facilities. You are made to feel at home right away, which is so typical of the Rocky Mountain hospitality, the staff are always friendly and on hand to give personal recommendations of things to do.
The rooms have a rustic yet luxurious ranch feel, furnished with high-quality pieces and the remote location of the ranch means you will enjoy a quiet night's sleep in an idyllic setting.
With a rotating program of lunch and dinner activities, which can include a chuck-wagon cookout by the creek on the ranch, or cocktails at a nearby lookout point, every day will be varied and tailored to your interests. One of my favourite places on the ranch was the Saloon, which is open in the evenings and really adds to the 'wild west' feel of the ranch.
I'll never forget when…
On a recent trip to the USA I had the opportunity to join Teton Science Schools on one of their Wildlife Expedition tours in the striking Grand Teton National Park. We set off early in the morning from Jackson to search for wildlife. It was in the middle of the rutting season for elk and moose and we were fortunate enough to watch two male moose, each with an impressive set of antlers, having a stand-off to compete over a female. It was a very special moment to witness the moose interact and even vocalise, which is rare to hear. All the while this played out, the sun was rising over the jagged peaks of the Grand Teton mountain range, colouring them pink in the early hours and providing the most stunning backdrop to our morning.