Rob's love of all things North American stems from family holidays travelling to the USA and Canada as a boy. Having been amazed by the scale and variety of the two countries — and wanting to discover the small town America of film and TV — he embarked upon an ambitious trip to travel through 30 States on leaving University. Realising that there was so much more to explore, he found a career that would enable him to feed his appetite for North America, with a working visa in California.
Since joining Audley, he has been further enhancing his knowledge and love for the region with trips to drive the iconic Route 66, through the stunning scenery of California and the southwest, and to the awesome sights of Canada.
In his spare time, Rob is an avid Tottenham Hotspur supporter, and enjoys cycling and walking.
Speak to Rob

Start planning your trip to Canada & the USA with Rob by calling
01993 838 772

USA
It may not be to everyone's taste, but Las Vegas is a truly unique city and one which I am fortunate to have visited five times. Whether you are relaxing in one of the luxurious spa resort hotels, seeing one of the world-famous performers, trying your luck in the casinos or simply wandering around in amazement at the lavishness of the hotels, there really is something for everyone here. Also, being in such close proximity to the Hoover Dam and Grand Canyon, means that you can visit these two diverse sites on your Las Vegas trip.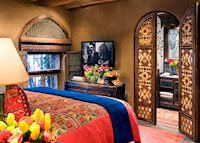 USA
This hotel is beautiful. Set just back from the main road in Santa Fe, around a five minute walk from the historic plaza, it really is an incredible place. The decoration is like nothing I've ever seen and the attention to detail is amazing. Each room has hand-decorated mosaic tiles, beautifully ornate beds, hand-woven tapestries and an enormous bathroom.
I'll never forget when…
My most memorable experience was my first ever trip to New York. I arrived late in the evening due to a flight delay and was feeling a little tired and deflated. However, as I entered Times Square I was greeted with an incredible range of colours, sounds and sights. I was blown-away by the scale of everything: the food, the buildings, the noise — and from that point onwards — I have been eager to replicate this sense of awe in as many places as possible.