After leaving college and working for six months, Tobias departed on a round the world trip, stopping in Australia, New Zealand, Fiji and finally the US. This ignited his passion for travel but most specifically, his love for California and the southwest, through which he travelled thoroughly.
On arriving back in the UK, Tobias lived in Devon where he worked in tourism and marketing, before moving to London to work in events marketing. Knowing that travel and tourism was the industry he felt most at home in - and wanting to be part of promoting the part of the world he loves the most - he later joined Audley.
Tobias has recently returned from a trip during which he explored more of the southwest including Arizona, Las Vegas, Grand Canyon, Bryce Canyon and Zion National Park. He also revisited some of his favourite spots in California such as San Diego, Santa Barbara, Big Sur, Carmel, San Francisco and Napa. He is now delighted to be part of a select number of specialists promoting his favourite part of the world.
Speak to someone who's been there
Start planning your tailor-made trip by calling one of our USA specialists on 01993 838 755
To pick my favourite place is such a challenge and for someone like me who enjoys the great outdoors it may be a surprise to the people who know me that I would pick a city.
San Diego to me is a city that I think has something for everyone, beautiful beaches, exciting nightlife, fantastic restaurants and some of the best accommodation in California. The Gaslamp district is an exciting collection of boutique shops, restaurants and hotels, while La Jolla is a seaside neighbourhood which is fantastic for snorkelling and kayaking.
It may not be at the top of places to visit when people think of California, but to me if you are only going to visit one city while you are in California this should be it.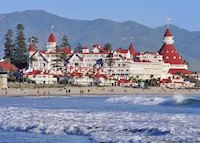 This amazing property is a beach front hotel steeped in history. The service is very personal and the whole building has a fantastic atmosphere.
Enjoying the best breakfast I've ever had while looking out to sea was a wonderful experience and is surely the closest to California dreaming you can get. The age of this building gives it some quirky features and each room in the old part of the hotel seems to be very slightly different.
I am planning another trip to California next year and I am very excited to take my family here, I am sure they will be as impressed as I was.
I'll never forget when…
Walking The Narrows, which as the name suggests is the narrowest section of Zion National Park, is something I can say I will never forgot, it really is like nothing I have ever done before. I can't remember how many times I stopped to take a picture and take in the scale of the place. Walking through a shallow river with canyon walls reaching a thousand feet high on each side of you is incredible. Zion National Park is in northern Utah and is close to the Grand Canyon and Las Vegas.