Victoria's love for travel started from a young age as she travelled to the USA multiple times throughout her childhood. It's the incredible landscapes, as well as the diversity in culture, that has inspired Victoria to continue returning to America.
After studying Sociology at the University of Exeter, Victoria started a career in Event Planning. However, after travelling extensively throughout this period, she underwent a career change to follow her passion — travel.
Since joining Audley, Victoria has re-visited some of her favourite destinations in California such as San Francisco, Santa Barbara and Santa Monica, but also explored new areas including Yosemite National Park, the rolling hills of Sonoma County and the coastal towns of Monterey and Carmel. She has also travelled to the Rockies discovering the incredible wildlife and geology of Yellowstone and Grand Teton National Parks.
Outside of work Victoria loves to cook, sing and ski.
Speak to Victoria

Start planning your trip to Canada & the USA with Victoria by calling
01993 838 841

Santa Barbara is one of my favourite destinations in the USA. It is a uniquely cultural hub with a real Spanish influence from its early settlers. It offers idyllic weather, a rugged Californian coastline, great shopping and a vibrant yet sophisticated city life.
The city is also very close to some incredible vineyards in the town of Los Olivos, where you can take a bike tour around the vineyard before enjoying a tasting or two.
One of my favourite things to do in Santa Barbara is to take a stroll down the gorgeous white sand beach, where you might be lucky enough to see dolphins or sea lions pass by. Make sure to head up to Paseo Nuevo to taste some Mexican culinary delights at the locals' favourite Carlitos.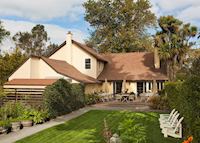 My favourite place to stay is the Farmhouse Inn. This property is surrounded by hundreds of the best vineyards in North America. The staff are extremely attentive, giving the hotel a real warmth and retreat feel.
The Farmhouse have thought of every little detail to ensure your stay is as special as possible, from offering a range of local handmade soaps, to the wine hour hosted by a different vineyard every evening, to the delicious cookies left by your bed at night. Make sure to visit the hotel's Michelin Starred restaurant and its spa during your stay.
I'll never forget when…
My favourite travel experience would undoubtedly be my excursion with the Wolf Trackers in Yellowstone National Park. After an early pick up time of 5am, we ventured into the park in search of wildlife. Within just a few hours we had seen a black bear and her cub, a wolf pack, elk, bison and peregrine falcons. Nathan and his team are experts when it comes to animal tracking and will not only meet but surpass your expectations, not only with the wildlife you will see but also the knowledge you will gain.