Shameem, Middle East Senior Specialist
My passion for the Middle East really started well into my travel career when I moved to Dubai in the late '90s. Dubai, at that time, was much less developed than it is now but it was still easy to travel around the region. I often went to Oman, which is easily accessed by road from Dubai, and was smitten by the country's rich cultural heritage and the diverse landscape of mountains, desert and coastline. Jordan is another country that impresses with it diversity, as well as the sheer number of highlights in a relatively small country. Thousands of years of history remain from Graeco-Roman archaeological sites to the Nabatean city of Petra. As a regional specialist, I had over 12 years of experience in Oman and Jordan prior to joining Audley, and I'm always happy to share my experiences and knowledge of these amazing places with anyone who wants to travel here.
Speak to Shameem

Start planning your trip to Middle East with Shameem by calling 01993 838 508

Q&A with Shameem
What's the best local dish you've tasted?
Mansaf is the national Jordanian dish and is a big part of all celebrations and festivals. Made from lamb cooked in yoghurt until tender, it is served on a bed of rice and accompanied by bread, a sprinkle of nuts and parsley, then topped with a buttery sauce. Mansaf also plays an important role in resolving conflicts. When issues arise, the heads of a tribe or family visit one another with an accompanying group and, traditionally, the hosts will sacrifice a sheep and cook mansaf as a token of respect. It will be eaten together as a way of marking the end of the dispute.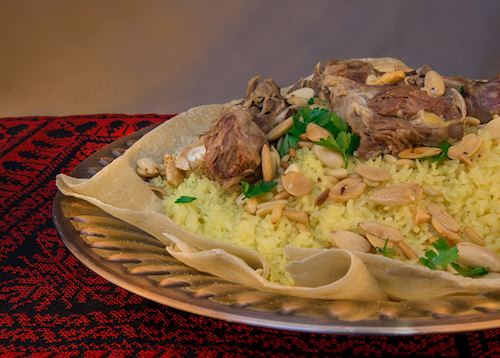 What's your most vivid travel moment?
I have visited a few deserts in the Middle East and Africa but the most impressive was Wadi Rum in Jordan. The scenery is dramatic with rocks rising vertically from the desert floor. On one visit, my driver stopped at a simple Bedouin camp for refreshments. I was greeted with such warmth from the couple who lived there and served locally produced goats cheese, freshly baked bread, olives and mint tea. Bedouin women rarely get involved with running a camp but the woman I met was eager to show me everything from cleaning and cooking to driving a truck. It was a truly humbling experience.
Your best piece of travel advice?
Approaching Petra at night through the candle-lit canyon is understandably very popular, but unfortunately, visitor numbers are not controlled and on a busy night over 800 people partake. For a better experience, start the tour as early as possible and leave as soon as it finishes. It's also best done before visiting the site in daylight.