Amanda grew up in New Hampshire and developed a passion for travel at an early age while on a trip to Europe with her family. After that, she leapt at any opportunity she could to see the world. Amanda studied abroad in Barcelona and was able to experience many different European cultures while she was there. She has also been on safari in South Africa, to the rainforest in Costa Rica, and wandered through the markets in Morocco. However, it was while hang-gliding through the mountains of New Zealand on a trip with her grandfather that she found one of the best spots in the world. She fell in love with the gorgeous landscapes, active lifestyle, and friendly nature of the Kiwis. Whenever Amanda was asked to describe her favorite country she always started talking about New Zealand.
Since joining Audley Amanda has had the opportunity to return to New Zealand as well as discover another favorite destination, Australia. She has travelled extensively throughout both countries and has loved every minute of it. She can't wait to talk to you about snorkelling in the Great Barrier Reef, taking a helicopter tour to a glacier, surfing at Bondi Beach, and many more experiences that await you in Australia and New Zealand!
Speak to Amanda

Start planning your trip to Australia & New Zealand with Amanda by calling
1-617-223-4704


Recommend Amanda to someone you know
Help your friends and family discover the world with Audley. Recommend Amanda today.
The trip went like clockwork. Little touches made it great, like the private driver to our hotel from the airport. Every planned activity was on time and it was easy to just enjoy the moment.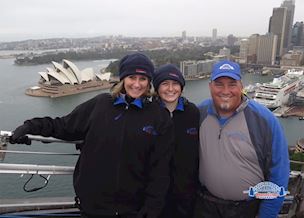 Andrew F. traveled to Australia for 14 days in June 2016, organized by Amanda P
Audley made the challenge of multiple locations and activities easy to plan within my budget. We had the opportunity to downgrade accomodations, or change activities where needed. Amanda was our specialist and she did a great job staying in touch and answering questions. I was very comfortable talking to her and enjoyed our conversations. I felt that she was invested in the success of our trip. She was also very knowledgeable and provided several options. I was most impressed with the level of communication, supporting my requests for updates and information on packing or currency exchange. The trip went like clockwork. I don't think that the trips I have planned in the past have gone as smoothly. Little touches made it great, like the private driver to our hotel from the airport. Every planned activity was on time and it was easy to just enjoy the moment.
Australia
My favorite destination was Hamilton Island. When you fly in, you are immediately greeted by a representative from your resort ready to take you to where you need to go. It's a stress free little community surrounded by beautiful bright blue water. You drive around the island on golf carts to the shops downtown or up to the lookout for drinks at sunset. The island has numerous restaurants to choose from and activities to participate in. You can have breakfast with the koalas, take a trip to the Great Barrier Reef, or just relax on the sunset catamaran cruise. It is the epitome of the laid back island lifestyle with plenty to do!
I'll never forget when…
One of my most memorable experiences was during a tour to Fraser Island, the largest sand island in the world. It is also the only island where the rainforest grows out of the sand. We stopped at a lake for lunch and as I walked out of the rainforest onto the beach I was astonished by the incredible crystal clear blue waters. It was a color I had never seen before in nature and you could actually see the roots of a tree growing out of the water. I sat on the white sand beach looking out over the pristine lake utterly amazed by how peaceful it was. It felt like I had found this secret spot completely untouched by the world.