My passion for travel began in high school when I spent the best part of a year convincing my French teacher to take a group of students to France. I wanted to see the sights and speak the language we had learned for so long. Upon returning from our trip, I told my parents I wouldn't be attending college and would instead travel the world. About a week later my father was helping me apply to the Rotary International student exchange program. I spent the next year in Lyon, France, living with local host families and attending high school. During this year, I was fortunate to live as the locals do and deeply immerse myself into the culture rather than just the sights. This experience changed the way I travel and view the world, and at Audley, I hope to bring clients a similar depth of understanding of the places they visit.
Speak to Kalena

Start planning your trip to Southeast Asia with Kalena by calling
1-855-233-1082

Indonesia
Komodo Island is a tranquil retreat compared to some of the busier Indonesian islands. You can relax on pink sand beaches and snorkel over vibrant coral or among sea turtles, see a wide variety of sea creatures and easily get surrounded by a school of exotic fish. You'll also get to see the world's largest living species of lizard, the Komodo Dragon. These massive lizards can grow up to 3 m (10 ft) long and have a venomous bite, but Komodo and the surrounding islands are the only places they can be seen in the wild.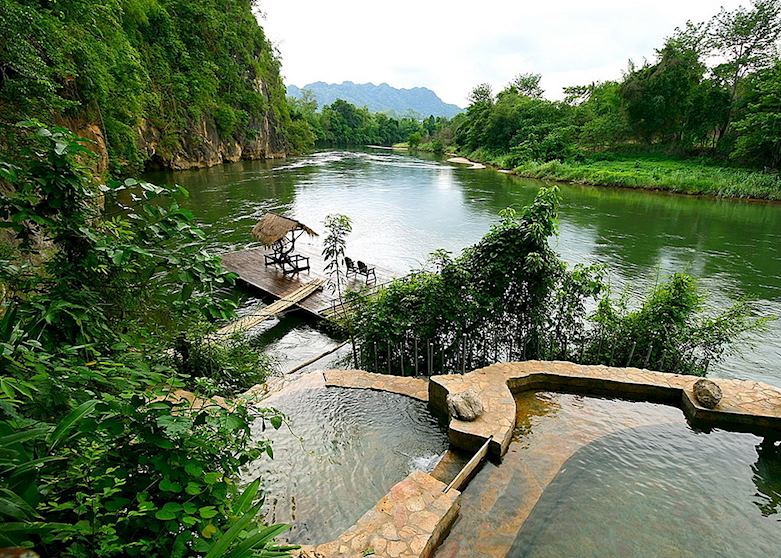 Thailand
Sneak away from bustling Bangkok to an altogether more tranquil world at the Hintock Tented Camps along the River Kwai. You'll stay in a safari-style tent on the banks above the river and can relax in the natural spring baths or get a Thai massage. If you're looking for more action, grab one of the camp's bikes and follow the local trails to explore nearby caves and waterfalls. Come back in the evening to an outdoor barbeque under trees lit by paper lanterns before grabbing a nightcap and relaxing on your tent's porch. It's blissful.
I'll never forget when…
Cruising down the Sok River surrounded by the rainforest of Khao Sok National Park was a magical experience. We moored at an elephant sanctuary where we met a playful bunch of elephants that had been rescued from dangerous working conditions. We helped prepare their lunch, enjoyed watching them play in the mud, and then assisted in giving them a bath. Although the elephants were too old to be released back into the wild, being able to visit the project and help out, knowing that these beautiful creatures were living as they should be, in the lush rainforest, was a highlight for me.