Bianca grew up and attended university in the Greater Boston area. It was during her second year at university that she decided to venture out of her comfort zone to study abroad for a semester in Gold Coast, Australia. While abroad, Bianca travelled extensively throughout the eastern coast of Australia as well as the South Island of New Zealand. She immediately fell in love with the relaxed culture and breath-taking scenery of both countries and knew that one day she would return to both. It has been Bianca's dream since traveling to Australia and New Zealand to spread the joy and excitement she felt while traveling the countries with others. When not designing custom itineraries for you, Bianca can be found supporting Boston's sports teams, rollerblading down the beach or participating in the local women's lacrosse leagues.
Speak to Bianca

Start planning your trip to Australia & New Zealand with Bianca by calling
1-855-787-5628

Recommend Bianca to someone you know
Help your friends and family discover the world with Audley. Recommend Bianca today.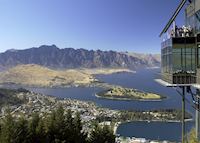 Located on the South Island, Queenstown is a must see on your trip to New Zealand. Queenstown is known as the 'Adventure Capital of the World' and rightfully so with activities like bungee jumping, skydiving, white water rafting, jet boating, mountain biking and much more! If jumping out of airplanes isn't for you, the surrounding region is well known for its Pinot Noir wineries. Whether you are an adrenaline junkie or simply want to take in the magnificent scenery of Lake Wakatipu and The Remarkables, Queenstown has something to offer for everyone.
Matakauri Lodge is a luxurious accommodation option for someone looking for the Queenstown experience without the hustle and bustle of the town center. Floor to ceiling windows allow for ample amounts of natural light to flood each private suite and for guests to take in the spectacular views of Lake Wakatipu and The Remarkables. In the cooler months be sure to cozy up to the fireplace with a glass of wine or relax by the spa and outdoor infinity pool in warmer months. The complimentary pre-dinner drinks and appetizers in the main lodge are a must!
I'll never forget when…
While staying at the Thala Beach Nature Reserve in Port Douglas, I was heading to reception to attend the complimentary Star Gaze walk. When I entered the reception area I noticed there was a crowd of people sitting around intently watching something. As I got closer I realized they were all marveling over Apple, the resident wallaby. Earlier, the staff had laid out pieces of sweet potato in hopes that she would make a guest appearance that night. I was able to get close enough to Apple for her to physically take the pieces of sweet potato directly out of my hand!