While studying at Boston University, Sophie had the opportunity to study abroad and intern at a local event production company in Auckland, New Zealand. From the moment she stepped out of the plane, New Zealand captured her heart. Sophie's favorite activities include hiking, fishing, playing tennis, skiing, enjoying water activities, and exploring all things outside- making NZ her ideal outdoor playground. Living in Auckland gave Sophie the opportunity to explore different regions of the North Island every weekend; all you have to do is get yourself behind a wheel, and within 20 minutes you're encompassed by unimaginable New Zealand landscapes and sites. New Zealand amazed and entertained Sophie for half a year, until she begrudgingly had to return home.
After graduating, Sophie's travel bug brought her on a backpacking trip around Southeast Asia, but her constant desire to go back to NZ has never faded.
Speak to Sophie

Start planning your trip to New Zealand with Sophie by calling
1-855-223-4581


Recommend Sophie to someone you know
Help your friends and family discover the world with Audley. Recommend Sophie today.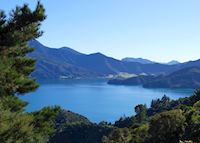 Wanaka, on New Zealand's South Island, is my favorite place to explore, relax, and take in the natural beauty of NZ. Wanaka is a cute town settled alongside a magnificent glacier-made lake, surrounded by dramatic, colorful mountains, and soft, grassy fields. The locals are all incredibly proud of their home, and so hospitable it feels like you have already met! No matter what time of year you visit Wanaka, the outdoor adventures are endless. With three different mountains close by for skiing and snowboarding, a visit to Wanaka in the winter will become a relaxing and remarkable alpine escape. In the warmer months, Wanaka is a welcoming and fun lake town with countless water activities available, picturesque vineyards to explore, and breath-taking walks and hikes all around to take in the outstanding, indescribable natural beauty. Wanaka is a smaller, less populated version of Queenstown, while still offering the same memorable activities just with a more local spunk and flare.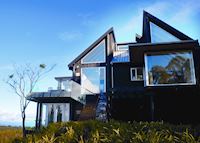 Acacia Cliffs Lodge, looking over Lake Taupo, is my favorite accommodation in New Zealand. Settled at the top of the Acacia Cliffs, the view through the full wall windows, that line all bedrooms and the communal, cozy living room, is something I could look at for hours. Staring straight down a grassy hill, you can see sheep grazing, and native fruit trees blossoming, all with the backdrop of a massive blue lake surrounded by rolling mountains. The lodge itself has a very homey feel, with a comfortable lounge area and indoor fireplace, plus an open kitchen where you can watch the talented chef Mr. Rick Whitlock cook a delicious, tailored 3-course dinner for you and the other guests. Rick and Linda are incredibly welcoming hosts, to the point that Acacia Cliffs Lodge felt like a home away from home the second I walked inside.
I'll never forget when…
One of my favorite experiences in New Zealand was the Monro Beach walk by Lake Moeraki in the South Island. The walk started with crossing a swinging bridge that went over a beautiful, turquoise stream between two open, grassy fields. On the other side of the field, I immediately entered into a luscious, green rainforest. Everywhere I looked was covered in soft, green moss, ferns of all sizes, and constant water trickling from the trees. As I made my way farther through the rainforest, under massive native trees that had trees growing out of their mossy trunks which also had trees growing out of them, I truly felt I was in another world. At the end of the walk, I turned a corner and all of a sudden I was on a sandy beach and to my right was a family of three Fiordland Crested Penguins waddling along the edge of the rainforest. It was one of many moments in NZ where the sheer power and beauty of nature left me with no words; all I could do was smile and convince myself this was real.