Travel has always been a priority for Derek whenever he has the free time. It began with a trip to Ireland in high school, and continued to other countries including Australia, Iceland, Denmark, and Spain as well as domestic travel within the US. However, none of these places left the impact on Derek the way that Italy did. Growing up in an Italian family that makes their own wine and enjoys an assortment of cheeses and olives before every big meal, Italy makes Derek feel right at home.
After feeling unfulfilled in his accounting career and yearning for the opportunity to work in a field that he was passionate about, Derek gladly joined the Audley team to share his love and knowledge of Italy with all. Derek's passion for helping others can also be seen through the non-profit foundation he started in 2015 which hosts local charity sports tournaments.
Speak to Derek

Start planning your trip to Italy with Derek by calling
1-855-223-4738


Recommend Derek to someone you know
Help your friends and family discover the world with Audley. Recommend Derek today.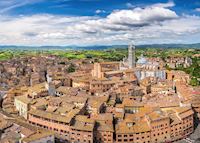 Italy is a country built on the staples of food, wine and history, and Tuscany certainly delivers on all three fronts. A visit to a winery in one of the seemingly endless vineyards of the Chianti region will allow you to sample the some of the best Tuscan wines, often paired with a decadent assortment of meats and cheeses.
A visit to Siena will show you a great glimpse into the country's history, as it was once a very prominent and powerful city in Italy dating back to the 12th Century. Time your visit right and you can catch the Palio di Siena, an amazing horse race between the city's rival districts that takes place within the confines of the small city square in July and August each year. The quietness and tranquility of the many small Tuscan towns make for the perfect escape from some of Italy's busier cities.
Boasting some of the best views in Positano on the Amalfi Coast, Villa Franca is easily my favorite hotel. The simple yet luxurious design combines white white accents with the traditional bright colors seen all around the Almafi Coast. The rooms are extremely clean and comfortable, though not the biggest, and every room has a balcony which is an awesome bonus when you are in a place as beautiful as Positano.
The roof deck features a swimming pool surrounded by comfortable lounge chairs, and its panoramic views rivals any in Positano. If you are really looking to relax you can visit their deluxe spa and choose from a number of treatments. The main cluster of shops and restaurants are down by the beach and only a 10 minute walk away, but there is also a free shuttle that runs every night until midnight.
I'll never forget when…
Getting the opportunity to make pizza with an Italian chef was an experience I will never forget. Upon arrival, we were welcomed into the kitchen with a glass of wine and then began the quest of making our own pizza dough. We followed the chef's instructions as he shared his secrets to making the perfect pizza.

Once the dough was complete and got the chef's stamp of approval, we needed to let it rest. During this time we enjoyed some delicious focaccia bread and pizza roll snacks. When the dough was ready, we shaped our pizza and added our favorite ingredients. After only a few minutes in the oven, the pizza was ready. Eating our homemade pizza with a glass of wine would have been a great way to end the tour, but then the chef brought out a Nutella dessert pizza, and at that point I knew this was my favorite tour.