Like most Boston natives, Elizabeth has deep Irish roots and was lucky enough to travel to Ireland extensively in her youth. She discovered her passion for British history, especially all things royal, while studying at Portsmouth Abbey and Fordham University — and on a recent trip to the UK was able to explore every castle she could.
Before joining Audley she worked for the travel magazine Where Boston. In her down time, you can find Liz planning weekend trips for friends, making to-do lists and spoiling her nieces and nephews.
Besides the UK and Ireland, some of her favorite destinations have included Austria, Turkey and Nicaragua. It was at a friend's wedding in Nicaragua that she learned about Audley.
Liz is excited to combine her love of arranging trips and all things British and put it to good use for your next proper vacation to the UK and Ireland.
Speak to Elizabeth

Start planning your trip to Europe with Elizabeth by calling
1-855-390-7744


Recommend Elizabeth to someone you know
Help your friends and family discover the world with Audley. Recommend Elizabeth today.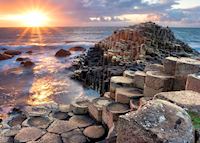 Because of its history, many people visit the Republic of Ireland dozens of times before ever venturing to Northern Ireland, but that's exactly why Belfast and the Antrim Coast are so unexpectedly rewarding. Belfast is a vibrant city, filled with sumptuous restaurants, fun nightlife and welcoming people. Major attractions are easily walkable and many of the hotels are both sophisticated and stylish.
Just outside the city, you'll discover vast ocean views along the Antrim coast — which rival anything in the entire United Kingdom. And the locals couldn't be more personable.
As a Game of Thrones — for lack of a better word — fanatic, nothing gave me more joy than seeing actual locations of the show. Our guide was able to combine his tour with seeing the Dark Hedges (otherwise known as the King's Road) and Ballintoy Harbour (aka Theon Greyjoy's home, the Iron Islands). Have your guide tell the romantic tale of Fionn mac Cumhaill before you walk the Giant's Causeway, but make sure you take a minute to soak up the beauty as you climb up and down the volcanic rocks.
The Scottish Highlands and contemporary elegance are not words you would think go together, but Cameron House achieves just that.
Set upon the bonnie banks of Loch Lomond, this converted 18th-century manor offers you the chance to be transported back in time without losing modern amenities. What I love about this hotel is the warm traditional Scottish décor of the rooms that is offset by the sleek modern bathrooms, complete with monsoon showers. After a day outside exploring the wild beauty of the Highlands, nothing felt better than relaxing in their award-winning spa or just taking a dip in their infinity rooftop pool.
To top off your trip, I recommend a ride on their sea plane over the loch, complete with complimentary champagne — truly an indulgent experience.
I'll never forget when…
My most memorable experience was signing the peace wall in Belfast. It was the finale of a black cab tour that focused on the political history of the city and Northern Ireland. Learning about the violent and tragic past and witnessing how far Catholics and Protestants have come by working together was such a privilege. To somehow be a part of history like that is something I know I will never forget.
Photos taken by Elizabeth