Thanks to her involvement in volleyball, Eva was able to explore much of the US at a young age. However, being of Italian heritage she always knew she wanted to venture off to Italy. Eva studied Italian Renaissance Art during university and received a BA in Art History. Whilst in school she had the opportunity to study in Florence for 3 months, and from that point forward her affinity for venturing abroad was cemented. Since then, Eva has had adventures like walking part of El Camino in Spain, hiking to the Cliffs of Moher in Ireland, seeing the Alps in St. Moritz, Switzerland and snorkeling in the islands of the Caribbean. Yet still, Italy remains Eva's favorite destination for its elaborate history and romantic culture. Eva is delighted to bring her passion for Italy to Audley and to share her enthusiasm with her clients.
In her spare time, Eva likes to experiment with new dinner recipes, accompanied by a loaf of homemade bread and a glass of Italian wine. She is also an avid runner and her favorite time of the year is Game of Thrones season.
Speak to Eva
Start planning your trip to Italy with Eva by calling
1-844-508-2671

Recommend Eva to someone you know
Help your friends and family discover the world with Audley. Recommend Eva today.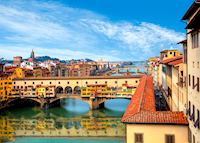 Although my favorite destination is a little biased after living there for a few months, I still have to say Florence. It is a city that represents one of the greatest moments in human history (the Italian Renaissance), and has maintained its charm and elegance for centuries. Nestled in the hills in Tuscany, there is no better view than hiking to the top of Piazzale Michelangelo, sharing a bottle of wine and watching the sunset over Florence. For art enthusiasts, you can spend hours in the Uffizi gallery and leave yearning for more. And no matter how many times you have visited the Duomo, it never ceases to impress. Personally, I enjoy visiting shops that have been in families for generations (true craftspeople), and I have a tradition of purchasing a gold charm for my mom on the Ponte Vecchio every time I visit. Feel free to ask me where my favorite place to enjoy the infamous Florentine steak is located!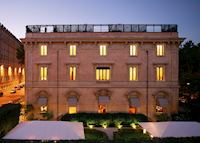 My favorite accommodation would have to be the Villa Spalleti Travelli in Rome. For those looking for a luxurious experience on a quiet street in central Rome, Villa Spalleti Travelli is the perfect stay. The site is a villa that has remained in the same family for four generations, so when you enter you feel you have been welcomed into someone's home. Rooms are named after the Roman districts and are classic, spacious and comfortable imbued with history. There is a private terrace and garden for guests, and apartments available which are perfect for a family! Not to mention a spa and gym on the lower level. Rome can be quite busy so it's nice to have a warm and quiet retreat!
I'll never forget when…
Taking the Vespa tour in Rome felt like the quintessential, perfect Italian tour. It was just the right balance of new and old Rome - discovering the city's history whilst on a Vespa, a staple of modern day Roman life. While my guide drove the Vespa I was able to take in the views and cover a wide range of the cit, including sites like the Pantheon, the Baths of Caracalla, the Circus Maximus, and Giardino degli Aranci (orange garden) overlooking the city. The Vespa tour is an adventure of its own!