While studying Art History and Anthropology at the University of Notre Dame, Kim spent a semester in Rome, followed by a summer on an archaeological dig in Calabria (the "toe" of the Italian boot). Kim used this time to explore all corners of Italy, seeing some of the most famous art in the world in person, having an almost nightly gelato, and mastering the vibrant art of Italian hand talking to make up for her broken language skills.
After graduating, her desire to see more of the world took her to South Korea where she lived for a year and a half before moving on to China for two years and finally ending up in the UK. There, she was able to put her travel experience to use creating bespoke European vacations for clients. On moving back to the US, Kim relished the opportunity to focus her energies on Italy with Audley and help more people experience the history, art, culture, and cuisine of Bella Italia.
Speak to Kimberly

Start planning your trip to Italy with Kimberly by calling
1-855-223-4391


Recommend Kimberly to someone you know
Help your friends and family discover the world with Audley. Recommend Kimberly today.
I've visited cities and regions around Italy, but Lake Como is my favorite. The dramatic landscape is unlike anything I've seen elsewhere. The water of the lake is a gorgeous cerulean blue, and the mountains jut up at a steep angle. While it's easy to relax all day in some of the stunning hotels on the lake, there's also swimming, boating and paddle boarding.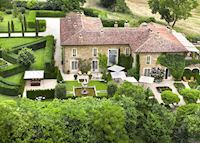 The history, beauty, and level of service at the Borgo San Pietro, Tuscany, is really astounding. With just 16 rooms, the level of service and personalization is second to none. Décor is unique and characterful with a sort of old world Tuscan charm executed in stunning luxury. The hotel is created from a 13th century borgo, or little town, so rooms and facilities are spread out in separate historical stone and farm buildings surrounding the property. I found it to be not just a place to sleep while on vacation, but the place to really immerse myself in Italian lifestyle…in a very luxe way!
I'll never forget when…
When I think of Italy, one of the first things that has always come to mind is food, so the chance to have a private cooking class in Florence was a real highlight for me. I kneaded eggs and flour into fresh pasta. I very bravely (in my own opinion) cleaned and fileted a whole fish for the first time, and made a four ingredient gelato. As we cooked the Italian chef told me about her childhood on Giglio island working at her family's restaurant and passed along helpful culinary tips. The final result was an absolutely mouth-watering three course lunch which I could proudly say I cooked myself.