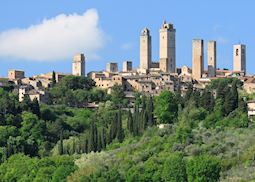 San Gimignano is a quaint medieval village in Tuscany, surrounded by 13th century walls and as you explore you will see many towers — fourteen still stand today.
My favorite memory is walking up the hill to the ruins of the 14th century fortress, La Rocca di Montestaffoli. From this vantage point the panoramic views are spectacular: rolling hills, olive trees, and towers dot the landscape. After you spend some time soaking in the Tuscan landscape be sure to get some gelato in the Piazza della Cisterna. No visit to San Gimignano is complete without some shopping; the town is filled with wine, ceramic, cured meat, and leather stores.
I left San Gimignano feeling refreshed and I think you will too.