Much of Shannon's early life was spent touring the US and Europe with her family. Graduating Phi Beta Kappa with a degree in Art History and French allowed her to study and travel across Europe throughout her four years at college. As a sophomore she was fortunate to study Italian Renaissance Art and Architecture in Florence, Italy. She also lived with a family in the hills of Fiesole during her semester there, immersing herself in local life and language. She continued to travel to Italy often with her family, then as a newlywed and later on with her children. With a love for travel and new experiences, she has also explored much of Western Europe, Morocco, Thailand, China and Japan, and subsequently spent the first three years at Audley as a China and Japan Specialist prior to joining the Europe Team.
Before joining Audley, Shannon was a portrait and food photographer, a passionate cook and also an event planner. She is also an avid skier and loves the chance to hit the slopes outside her native New England. Her skill set lends itself perfectly to planning the ideal trip to Italy, including excellent tips on local dining and photography.
Speak to Shannon

Start planning your trip to Italy with Shannon by calling
1-855-838-7606


Recommend Shannon to someone you know
Help your friends and family discover the world with Audley. Recommend Shannon today.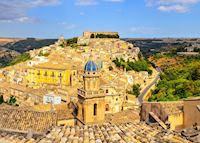 Italy
After my research trip to Sicily, I found it incredibly difficult to pick just one favorite new place, as Sicily has so much to offer. But, if I had to narrow it down to one area, I would say the Baroque cities in south-eastern Sicily would be it. Ragusa, Syracuse and Noto offer so much natural beauty, as well as impressive architecture largely rebuilt after they were destroyed by a 1693 earthquake.
My perfect day would be waking up in Ragusa, then heading out early to Noto to enjoy a coffee stop and a stroll through this perfectly white marbled town. From there I'd head to a winery for a wine tasting of local south coast Sicilian wines including the famous Nero D'Avola. Afterwards, I'd have lunch at a cafe in the seaside village of Marzamemi watching the fishing boats bobbing up and down in the water. The final stop would be Syracuse. I'd have a wander through the old town of Ortigia before settling down in a cafe opposite the Cathedral, once a 5th-century BC Greek temple, with my evening spritz.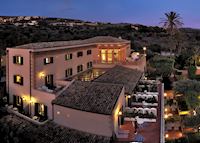 Italy
After a busy day touring archaeological sites, staying at the Villa Athena will provide you with a beautiful oasis in which to relax and recharge your batteries.
Just opposite the Temple of Concorida, in the heart of the Valley of the Temples, this hotel is the only one in the area which provides an exclusive entrance for its guests to this UNESCO designated site. The well-kept grounds and inviting swimming pool are a welcome treat after a long day in the hot Sicilian sunshine.
Whether you are relaxing by the pool or enjoying dinner on the terrace, the views of the temples from this hotel are amazing. Don't miss them lit-up at night too.
I'll never forget when…
Step out of the boat door at your hotel into a private water taxi waiting for you in the canal and you feel as though you are in for something special. The tour will begin with a lovely ride through the canals as you head toward open waters to gain perspective of all the islands in the Gulf of Venice. If the weather is nice, the back of the boat will be open so you can enjoy the sea breeze and warm Italian sunshine. Your guide will point out important buildings as you make your way in and out of central Venice and then explain the history of the surrounding islands such as Murano, Burano, and Torcello. It is such a lovely way to learn about the history of this fascinating and complicated city.